T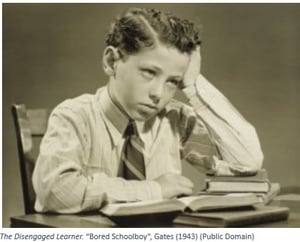 he InSync Training team congratulates Chip Dye, Lead Researcher and Director of Client Relations, on the defense of his dissertation and completion of his PhD program at the University of Connecticut. As part of our 20 Modern Learning Lessons Learned in 20 Years series, Chip highlights the purpose and value of his research into learner engagement.
A casual review of current literature in academic research finds more than 300 scholarly articles and more than 2,000 trade articles in 2019 alone that use the term "learner engagement," but few commentators define learner engagement. It is perhaps the ubiquity of the usage that allows researchers and commentators to continue the practice without a strict definition – it is assumed everyone knows what is meant by the term. Most practitioners in the learning and development industry, be it K-12 public education, post-secondary instruction, or industry professional training, can easily distinguish an "engaged" learner from one that is not engaged, in many cases simply on sight.
Anecdotally, it is easy to "see" when someone is not engaged, but much more difficult to articulate what is meant by "learner engagement." In the industry, learner engagement has developed into a short-hand term that loosely represents an amalgam of learner subject-matter interest/expertise, attitude, motivation, mastery, and self efficacy. Moreover, it is often explicitly or implicitly assumed that an engaged learner will achieve better outcomes against measurable rubrics than one who is not engaged.
Research into learner engagement in the early 2000s initially proposed a within-the-learner construct of affective (emotion) and cognitive (subject matter) construct, with more recent research adding a third behavioral (and observable) criteria to bolster a within-the-learner model of engagement in an effort to develop better measurement protocols (remember, research still hasn't shown an engaged learner actually does better than a disengaged one – it's assumed). This behavioral research construct is better, and enjoys some degree of measurability (e.g. counting number of posts, discussion threads, etc. – I like to think of this as the grocery store "clicker" method) but misses the mark – the nature of the interaction with any given environment, and its effects on the learner, are largely ignored. Based on the rapid expansion in learning environment diversity within the instructional domain for professional development, a situated cognition theoretical framework was adopted to address the fundamental differences in learner experience resulting from the profound differences in externalities, affordances, and interactions in such environments.
Instead of looking at the learner alone within the learning experience, we use a learner-environment unit of analysis and look not only at the changes in both the learner and the environment, but also the nature of the changes as they evolve between them. In this way, we can look deeper and measure actual changes that reflect engagement (e.g. the evolution of the sophistication of comments made or the development of consensus within a group discussion) rather than simply click-click-click counting the number of times someone says something or does something within the learning environment. The key concept is that learner engagement is dynamic and a within-the-experience construct that is defined between the environment and the learner through interaction and change. The research InSync has developed in this area is related to both the latent construct and how to measure – we seek to not only develop observable criteria, but how those interactions change the learning experience. The construct has been tentatively validated using a variety of instrumentation in a variety of instructional treatments and environments, and we are now in the process of developing strong statistical relationships between particular interactions and how they affect engagement. Concurrently, we've developed an advanced instructional methods seminar here at InSync to assist experienced facilitators with identifying learner engagement trends and dynamics in delivery, and how to take advantage of them to enhance instructional effectiveness. Future research will refine how to affect engagement within the delivery and the effects of engagement on learner outcomes.
Read the press release announcing Dr. Charles Dye's dissertation defense here: https://www.prweb.com/releases/insync_trainings_technical_director_charles_dye_researches_learner_engagement_earns_ph_d/prweb16911918.htm