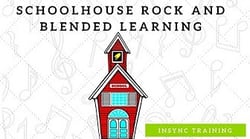 Do you remember the first time you experienced a non-traditional approach to learning? For most of us, we didn't learn important life-lessons inside a classroom. For Jennifer Hofmann, classic Saturday morning programming introduced her to self-paced learning, and the rest, as they say, was history.
Jennifer recently shared the surprising connection she made between her love of popular Schoolhouse Rock episodes and modern blended learning in this short (but insightful) video: https://youtu.be/Hd-ITHrroXc
Blended learning works. It appeals to us on a fundamental level, and programs like Schoolhouse Rock highlight why. Bells and whistles and high-end EdTech don't create the experience that resonates with us and makes lessons and content remarkable. Rather the value of well-designed blended training programs, and memorable episodes of Sesame Street and Mr. Rogers boils down to context. Learners of all ages benefit from a thoughtful combination of content and context.
Take a minute to watch and learn and reflect on your own experiences as a lifelong learner. Take what worked for you back-in-the-day and incorporate it into your instructional design and facilitation approach for a truly modern learning experience.