Today's workforce is more global, virtual, and mobile than ever before. Learning professionals must adapt to this new culture in order to best support modern learners. Based on Jennifer Hofmann's recent BYTE presentation, The Modern Learning Culture - What Makes it Tick?, this microblog series will present ten ways that learning professionals can evolve in order to successfully navigate emerging learning culture.
This is the second post in the series. Click here to start with the first post.
For additional information and support, download the InSync Training infographic, What is Driving the Modern Learning Culture, and watch the recording of the BYTE presentation, The Modern Learning Culture - What Makes it Tick?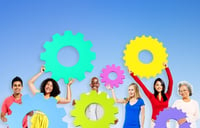 Second Way to Evolve with the Modern Learning Culture: Personalize Collaboration
The second way learning professionals can evolve to meet the needs of participants in the modern learning culture is to make a concerted effort to personalize collaboration.
I realize that this sounds counterintuitive because, at its core, collaboration is about a group. But, we all have our ways of wanting to collaborate. To personalize collaboration, we need to open the door for a process that allows learners to introduce the right tools to collaborate with team members.
Personalized collaboration is about more than using flipcharts and chat. As instructional designers and facilitators, we can give learners the option of deciding how they want to collaborate. We need to schedule opportunities for collaboration, and help get people set up, but learners can bring in tools they're comfortable with. When participants select their own collaboration tools, they are not required to learn how to use a new resource. Thus, they can learn and collaborate more authentically.
From One Business Owner to Another
My business, like most organizations, has an established toolset available internally. I understand and empathize that those tools are a financial investment, so you want to use them as often as possible. However, don't let that toolset preclude learners from bringing in personalized resources that work best for them. The cost of the tools will not be recouped if learners can't collaborate effectively.
In Conclusion
Introducing personalized collaboration during formal learning events has two major benefits. The first is that it helps you, the learning professional, adapt to the modern workplace learning culture. Secondly, by setting the precedent in training, learners are more likely to share their selected tools on the job and engage their coworkers in collaboration more often.
To read the next post in this series, click here.