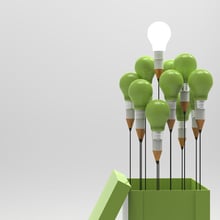 The modern learning landscape presents a unique set of challenges. Never before have learners had greater access to information, a greater drive to discover answers for themselves, or a greater number of demands on their time.
Formal training no longer provides the end-all-be-all solution for our organizations. While it has an important place in the instructional design line-up, it represents just one of many options we need to include in our blends.
By better understanding our audience, identifying a training solution, and transitioning to something new and innovative, we can improve the learning experience within our organizations.
Our Learners – Who Are They?
You've read the Bersin report and seen it first-hand. Today's employees feel overwhelmed, overworked, distracted, and impatient. Those frustrations spill over into all of their job, including when they get the directive to participate in training.
But that's not all we need to know about whose skill building we support.
Learners are search engine learners first. When faced with a question or problem in their day-to-day lives, they think, "Give me something – a quick hit so I can move on with my life." They Google an immediate solution on their phones, tablets, or computers, get what they need, and move on to the next pressing thing on their to-do list.
Learners are always looking to learn more. They want to know more than the answer. They want to know the "why," if it's easy to figure out. If the topic is interesting to them, they may create their own personal learning path.
Learners learn when they want to learn. When something goes wrong, learners want the answer right away. If the process is changing next week, they want to get ready for that process. They don't want to wait for formal training or spend a lot of time looking for a training resource we may or may not have created yet.
Learners are getting more and more mobile. It's a trend in businesses, for learning, and for learners. In certain situations, mobile learning authentically addresses the defined objectives.
Learners rely on social networks. Both in person and online, learners rely on their learning communities to get answers. Today, context and narrative matters as much as the information itself.
A New Opportunity – How Can We Support Learners?
Who we train only gives us part of the modern learning picture. How we choose to train them matters, too.
Learning and Development has a track record of excellence when it comes to formal training. We know how to manage the experience: we put the events on the schedule, we facilitate in person or online, we put the relevant content in the LMS. It's a seemingly clean and predictable process. However, it's no longer sufficient.
We need to adapt our process to also include self-paced learning campaigns. This doesn't mean simply creating microlearning resources and emailing them out or creating point-and-click eLearning. Learners need a more nuanced, personal, focused option that respects their time, their self-motivation, their preferences, and their personal learning goals.
Self-paced learning campaigns connect the dots between learning resources of various formats while working on a specific area of professional development. Learners understand the time involved in completing the campaign, thanks to a descriptive campaign map that defines not only the length of time they'll have to access the resources, but also the amount of time it may take to complete each available segment. Usually, self-paced campaigns do not include live learning events, but they may include collaboration among learners with moderation from a SME or facilitator. Ultimately, learners pick and choose which resources best support their goals.
For example, let's say you have a team of instructional designers who need to better understand gamification. Giving them a set amount of time to access a curated, thoughtfully-designed suite of resources, like two infographics, a whitepaper, an eLearning module, and four videos, helps them build applicable knowledge on this subject.
Getting Learners to Come to You – A Few Tips
As with any change, introducing a new learning methodology likely faces resistance. Learners and stakeholders alike find comfort in the known way of doing things. The learning function must now not only design self-paced learning campaigns, but also encourage people to trust and engage in the process.
There are a number of steps that can be taken to increase adoption and campaign success. Our team recommends:
Target your marketing. Incorporate promotion into the design process. Training has to sell the new way of doing things to learners and managers. What benefits does the campaign provide? Who did you design the program to support? How much will they learn, and how long will it take? Communicate the advantages throughout the organization.
Highlight the collaboration. Learners recognize the value of community. They gravitate towards it in learning, work, and life. They've always sought answers from friends, family, neighbors - only now, our communities have broadened out due to social media and the internet. Recognize the value of collaboration, incorporate it into your self-paced learning campaigns where appropriate, and encourage and advertise it as a key component of campaigns. Encourage sharing of lessons learned and best practices.
Partner with management and with influential employees. Vocal supporters of self-paced learning campaigns give your new program a competitive edge. They can turn the tide of public opinion, help change the learning culture, and get training a seat at the table.
Get involved early on. Work with managers to identify what skill gaps they're seeing in their teams. Anticipate the moments of need employees will have on the job. Becoming a partner in the business not only allows for timely, supportive designs, but it also builds top-down support for training that better addresses learner and organizational needs.
Think beyond the classroom or LMS. Self-paced learning campaigns empower your learners to adapt to the modern workplace and address their emerging, ever-changing needs.