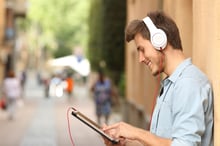 Virtually There Session recap
Have you heard? Modern learners love games. In fact, with the right design, these games have the power to increase learner engagement and boost retention.
Our organizations and stakeholders, though, often struggle to understand the value of games. "Having fun doesn't equal skill building," is a common refrain. How do we prove them wrong if they won't buy in?
Take the first step by walking them through Serious Games 101. Andrew Hughes, President of Designing Digitally, graciously shared his serious game secrets with our Virtually There learners. This blog details the basics of serious games and game-based learning, allowing you to apply his model to your own corporate L&D.
Some Background
Serious games make a serious impact because of who attends our training programs. Andrew observes that, "As millennials enter the workforce, we're now dealing with a group that's been processing data faster than we ever were. It's now our job as instructional designers and facilitators to engage them in training and keep them interested." Games provide us with an opportunity to motivate and activate true learning.
Before you say, "But not all my learners fall into the Millennial category!" Andrew argues that just because your generation didn't grow up playing video games, doesn't mean games won't have the same impact. In fact, "age should not be a determining factor when building game-based learning experiences. Video games are not age discriminatory."
Serious Games Defined
When you think of games in training, what comes to mind? Probably leader boards, badges, and trophies. It may surprise you that these things alone don't create a game. These items are forms of game mechanics – elements you can incorporate into a serious game.
Andrew formally defines a serious game as:
"A game designed for a primary purpose other than pure entertainment. The 'serious' adjective is generally added to refer to products used by industries like defense, education, scientific exploration, health care, emergency management, city planning, engineering and politics."
At its core, a serious game is one that gets progressively harder and requires learners to overcome challenges aligned with learning objectives.
Serious Game Components
Still not sure what differentiates a standard game from a serious learning game? Andrew identified six key factors that categorize a learning experience as a serious game:
Continuous challenges
Interesting storyline throughout
Flexibility of attaining goals with multiple outcomes
Immediate, consistent and useful rewards
Combining fun and learning together
Tracking player data and trends - analytics
Now you understand the basics of serious games and can begin brainstorming how you'll integrate this approach into your corporate learning initiatives. And when it comes time to sell serious games to your stakeholders, let them know:
"Serious games provide fun and engagement. If you can provide fun, you can provide engagement. If you increase engagement, you can improve retention."
Watch Andrew Hughes' entire Virtually There Session replay here for examples of great (and terrible) serious games and advice for designing them for your training program.