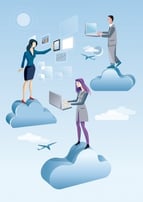 ATD Session Recap
The Association for Talent Development (ATD) graciously invited me to present 5 Steps to Making the Virtual Classroom Mobile & Social.
I was delighted to discuss the subject with a very engaged and enthusiastic ATD audience on August 28th.
Making the virtual classroom mobile and social can help instructional designers modernize ever-evolving learning environments. In order to do so successfully, I recommended following these prescribed steps.
Step 1: Understand what mobile learning and social learning means.
When asked, the attendees said that they believe mobile learning to be:
"Training on mobile devices"
"BYOD (bring your own devices)"
"Learning on-the-go with your own device"
"Training on-the-go."
I responded, "To me, mobile learning is NOT about technology. It's about where we are – it's 'learning on the move' in all of the different aspects of the learning landscape."
There are many places that people can learn including the traditional classroom, at our desks, on mobile devices, and on the job. If you start to think about mobile learning as where people learn, you will recognize that different technologies, like eLearning, self-paced learning, and social learning, can be implemented there.
In contrast, participants believed that social learning is:
"Social learning via Facebook and Twitter."
"Group learning."
"Collaborating with peers."
"Learning from peers."
Expounding on the comments in chat, I commented, "If mobile is a question about where you're learning, social is about HOW people are learning, and to a lesser extent, WHEN people are learning."
People can learn formally, informally, collaboratively, just-in-time, and on demand.
Step 2: Determine why and when you should choose mobile and/or social learning for your program.
The rise of mobile and social learning comes from the fact that mobile devices are everywhere, and learners can make selections based on their own convenience. Remember that things need to be "contextually appropriate…match the real world environment with the task we are trying to teach" when deciding whether social and mobile learning is an appropriate choice.
Furthermore, with mobile learning, we have to think about convenience and availability. It allows us to get to our learners in a meaningful way. As I discussed during the session, "Keep in mind though, that if learners choose to go mobile and we haven't designed for that environment, they may or may not succeed in the training."
Step 3: Determine what content should be mobile and design components.
Knowing when to use mobile learning can feel challenging. To combat this difficulty, I recommend leveraging them "...when mobile devices provide instructional fidelity (authenticity), when it's a realistic environment, and also, when it's easy." Keep in mind though, lessons that strive for higher levels of learning by using breakout rooms and application sharing will likely exclude the mobile learner.
Some best practices we discussed for designing mobile learning included:
"Keep lessons short."
"Create a resource page."
"Don't teach all the tools upfront."
"Send a summary at the end."
"Use a producer to keep track of engagement."
"Don't teach from a mobile device."
Step 4: Determine what content should be social and design components.
Social learning is about how people are learning, and how they are deciding to interact and collaborate with one another. Adult learning principles can help you make sense of learner interaction in the virtual classroom. For instance:
Adult learners are practical, so teach them in the way they are going to use the content.
They're self-directed, so allow them to decide how they're going to learn.
Adults are goal-oriented, so don't make them sit through training that they can't use right away.
They're relevancy-oriented, so tell them why they should invest their time.
They bring life experience & knowledge to learning, so let them share their experiences.
Adult learners like to be respected, and we can do that in a social environment.
When you're trying to decide whether you want to include a social component in your training, I said, "You need to go through a traditional instructional design process." We recently put together the infographic, The Art of Design for the Virtual Classroom, which, at a high-level, describes InSync Training's four step virtual design process. By overlaying this process over a traditional instructional design approach, you'll be able to create engaging social learning imbued with adult learning principles.
Step 5: Implement in an authentic environment.
My final step when making the virtual classroom mobile and social is: "From a design perspective, we should aim to implement in the most authentic environment possible."
A participant was looking for an example about authenticity. They asked, "What types of situations are best for mobile learning?" I replied, "Specifically talking about virtual learning, we want to embed learning in the flow of work. If we have a salesforce that's constantly on the road, let's teach them how to use their sales tools or resource pages using short live online sessions where they can learn to use the tools they need to use at work. Or perhaps people are only using iPads or tablets in a warehouse or literally in the field (agriculture uses a lot of tablets and iPhones). Teach them how to use those tools and teach them how to do their job using the tools they use to do their jobs. I think for many professions, you can make a good case for designing for the mobile environment. If someone is going to perform the job at their desk using a desktop, then that's how you should design the learning. It can't all be about convenience. I know we can teach anything using mobile, but I think we need to ask 'should we be designing this for the mobile environment?'"
By remembering that mobile learning is a place, not a technology, and that social learning is about how and when people learn, you'll have a much easier time modernizing your virtual classroom.
For additional information about the mobile and social virtual classroom, take a look at these additional resources:
For more information on making your virtual classroom mobile and social and many other cutting edge design topics, check out our Virtual Classroom Design Mastery Series by clicking on the title or the graphic below.