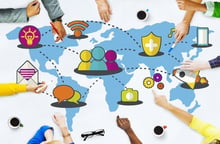 BYTE Session Recap
InSync Training President Jennifer Hofmann shared her 5 Steps to Making Your Virtual Classroom Mobile and Social with a rapt BYTE series audience on October 14, 2015.
Jennifer said, "Virtual in and of itself is no longer a singular solution for training problems. Our learners are coming and asking for more."
Jennifer promised that using the approach detailed in this session will "up the ante to increase the value of our live virtual classrooms." To meet the high expectations of modern classroom participants, follow these 5 steps.
Step 1: Understand what mobile learning and social learning mean
Two of the largest trends in learning are mobile technologies and social technologies that can be used in conjunction with the virtual classroom.
Learning professionals use different definitions when discussing these trends. Because they aren't consistent from person to person, and from organization to organization, this leads to confusion. To clarify, Jennifer urged us to use the following meanings:
Mobile learning: "Less about technology and more of a question about WHERE people are learning."
Social learning: "HOW people are learning, and WHEN people are learning."
People usually start the discussion thinking that mobile learning is a design technique or learning technology. The reality, though, is that people learn using mobile devices because they are on the move. When they engage in mobile learning, they are ultimately making a decision about where to learn.
By starting with the discussion of the where, the how and the when of learning, Jennifer asserted that we can start to make better instructional design decisions. Furthermore, universal definitions are necessary because, as learning advocates, we need to speak about mobile and social learning consistently in order to gain buy-in for these new approaches.
Step 2: Determine why and when you should choose mobile and/or social for your learning program
Once you have an understanding of what mobile and social learning are, take the time to establish why and when they should be included in your training program.
Jennifer argued that mobile and social should only become part of your instructional design approach when they add value to the session. We often make a mistake by saying, "I've got a mobile device, isn't that the same as a desktop computer?" No, not according to Jennifer. Each place learning can occur offers unique engagement opportunities. When deciding to include mobile or social components, only do so when they provide learners with topical engagement.
Step 3: Determine what content should be mobile and then design components
There are many reasons to "go mobile," including:
Mobile learning and mobile devices are everywhere!
Learners choose for their own convenience.
Designed mobile experiences are contextually appropriate for mobile workers and mobile tasks.
Jennifer reminded us that the key thing to remember is, "Just because a mobile device can do something, doesn't mean that it should. We can engage a mobile audience, but we have to engage them differently."
We need to design for the mobile environment so that they can apply that learning in the real world.
Jennifer had the following recommendations for designing mobile learning:
Omit discussions about agenda, objectives, and introductions.
Create a resource page.
Don't teach all the tools up front – teach them in context.
Send a summary at the end.
Use a producer to keep track of engagement.
Step 4: Determine what content should be social and then design components
At its core, socialization comes down to adult learners who learn by interacting. Jennifer expanded on this by saying, "Adults bring life experiences and knowledge to learning experiences. Socialization makes it more relevant. Learners have very little patience for information they don't need to learn. Our learners are more interested in learning from one another than listening to the facilitator talk for an hour or more."
Social components create conversation and extend the learning beyond the live classroom. InSync Training created a four step process for designing learning in the virtual classroom, The Art of Design for the Virtual Classroom. Socialization speaks to the third step, "Determine if collaboration would improve the learning outcomes." If having participants learn from one another will help you reach your learning outcomes, include a social component in your instructional designs.
Social components can include:
A group chat, like a Twitter backchannel with a set hashtag, that takes place during a live class.
Sending out daily tips via text messages to learners between live sessions.
Setting up learning communities where participants can discuss content and ask questions of one another after the training event has ended
Step 5: Implement in an authentic environment
This BYTE session pointed out that one of the real true advantages we have right now is that our training experiences can be more real-life than they have been in the past.
With so many options available, Jennifer encouraged us to select the most authentic where, when, and how of learning because, as she said, "The more authentic and real-life we get, the more valuable the training experience is going to be for everyone involved."
If learners are going to use a skill out in the field on a tablet, design that learning to take place on a mobile device. This allows the learning experience to mirror on-the-job requirements. If employees will be using Excel spreadsheets at their desk for their professional role, design the course to be taken on a desktop computer.
For more information about mobile and social learning in the virtual classroom, access these additional complimentary InSync Training resources: