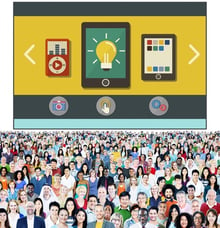 Training Magazine Network Session Recap
Training Magazine Network invited me to present my virtual session, Integrating Social Media into the Virtual Classroom, as part of their "Provocative Ideas Webinar Series." With over 150 learning professionals in attendance on September 23rd, many thought-provoking ideas were shared, and relevant questions asked.
I began the session by defining social learning as "learning that happens between peers." It can be helped along by people like facilitators, trainers and training departments. However, while we can embed the tools necessary for social learning into training events, we cannot force it to happen.
Social learning has been happening forever; for example, we learn from each other in apprenticeships. What's new now, though, is that we have technology in the workplace that can really influence it.
Once the attendees had a clear understanding of social learning as a concept, the questions rolled in. This blog post will share seven questions, all asked by multiple learners, as well as additional resources pertaining to social learning.
Question 1: What is the role of the facilitator in social learning?
I explained that the role of the facilitator "is truly about facilitating a conversation. Now of course, we'll have to stop and start. We'll have to deliver five minutes of content and then allow conversation to go on. Our job within the context of the virtual classroom formal training program is to recognize when the chat (in this case) is adding value and when we should shut it down because it's not adding value to our end goal anymore. In any formal training program, there's an end goal we need to achieve. Enter in the learning communities and the communities of practice and now the facilitator is there to make sure that the learners understand how to converse, not just answer particular questions."
Question 2: Where do you start with introducing social media into the work environment?
I suggested, "The first place to start is to identify the tools that people are already using, so we don't need to teach too many new things. If people are used to Skype or you have chat in your Adobe Connect or your Illuminate, that's a great place to start. That creates an instant in-the-moment type of social interaction. Have an activity where there's no right answer, but it gets people answering one another. Posting questions and having a conversation, for example. We can then take that over to a wiki or blog and continue that conversation. At the same time, decide what it is that you're trying to accomplish. Identify what it is that you are trying to get out of collaboration and social learning that you can't get out of self-directed e-learning. Start to introduce it when you have a dispersed workforce, when you've got people doing different jobs or have different levels of experience. Right now we've got four different generations in the workforce. Younger folks are accustomed to instant information. So you might start with new hire orientation. They would be disappointed if those types of social aspects aren't there. You can then partner Millennials with Gen Xers and they can communicate in these types of environments. Because, remember, it's not just about learning. It's about how we work in our modern environment."
Question 3: To start social learning in a company, would you recommend a social learning time, like office hours, or optional group discussion after a formal training session?
I have a strong suggestion about this, "I think that if we're introducing a new tool that's not required, we should start it with a live required event. For example, we kick off a six session course on instructional design that takes place every Monday from 2-4pm. In that first session, you introduce social tools, get people working on it during the live session so they get buy-in and so they know if they don't participate, they will be missing something. I would start it within the context of something you're already doing so they can understand what you're trying to get out of it. This allows them the chance to talk about it and share their concerns. After that, you could recommend office hours or social learning or make it part of your formal event. There's a lot of ways to do it, however, I do think that if it's new, kick it off in the context of something they understand."
Question 4: How do you control open chat from negativity or incorrect answers?
To this excellent question I responded: "There are a couple of things we can do here. Incorrect answers, especially in a group this size, a moderator helps the facilitator moderate it. When you've got a smaller group and they're chatting, the facilitator can monitor and pull those incorrect answers in and say, 'How did you get to that answer? What was your thinking?' Build on incorrect answers. It's not always important to be right; it's important to learn how to get to the right place. Incorrect answers are something skilled facilitators can turn into a learning moment. In terms of negativity, we do have 'Deniers.' We have a lot of people who participate but not in a positive way. The 'One-Upper' has to tell better stories than others. The 'Grammar Police' corrects whatever you say. The 'Anti-Scroller' responds to what's in front of them, and doesn't go back in the history and is not willing to do the work to find out how we got there. There are a lot of people like that. We need to figure out how to engage them. How do you engage the 'Deniers' that don't believe social media is going to work because it's evil in this generation? We do need to find ways to engage them. Start with what you would do in the face-to-face classroom. You would say, 'I see that you don't like this. Have you had experience doing this before? What would you do differently?' What's nice, as long as we don't have incorrect facts, is that if most people are positively engaging, we can overwhelm those that aren't participating."
Question 5: What if you're not actively monitoring the chat? How do you catch that bad information?
I asserted that "it's not really a concern because most people behave. We do have negative people as the exception, rather than the rule. If you're going to open a multitasking learning environment, you need someone helping you in that chat. You can't do a good job at both things. We still need to do our jobs as a facilitator. If I'm teaching live, I need a producer of some kind responding to the chat and making sure that I don't miss critical points and questions. It's important to know that you need a moderator not a technical producer who is just looking out for technology issues."
Question 6: I find it difficult to present content and monitor an active chat panel at the same time. Does integrating social media into the virtual classroom require a team?
I think that "to integrate social media into the virtual classroom well it does require a team. This is true even when I'm teaching a smaller class of 25 or a larger webinar of 50. I always have a second set of eyes. I focus on the content first, and then stop at a natural point in the conversation to come up to speed on chat. I'm never embarrassed to ask the people who are helping me to give me an update about what's going on. It's not just a conversation between us. It's a conversation between the people helping me.
Question 7: How do you address different learning preferences/styles in the virtual classroom? Or do you use the virtual classroom as a base of coaching?
I replied, "If you believe in learning styles – there's a lot of research coming out saying that learning styles don't make a difference – but nobody denies that people have different preferences. There are people who like reacting in the moment. There are others who prefer to be more reflective who would rather participate in a community like Facebook. We can combine those types of things. In the virtual classroom, we have the chat that kicks off all these questions and comments and then we move those to learning communities. We provide some context and structure, and then engage the more reflective learners and communicators. Give everybody credit when they're open to it. We want to make sure that people know their contributions made a difference. They need to know what the point of collaboration is."
To access the free Training Magazine Network recording of the session and to download the handout, click here.
InSync Training's infographic, The Art of Design for the Virtual Classroom, provides a four step process for creating engaging social learning. Click here (or on the title above) to download your complimentary copy.
Furthermore, Dr. Jane Hart and Dr. Jane Bozarth are experts when it comes to social learning. Visit their websites to learn more by clicking on their names.