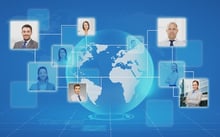 BYTE Session Recap
I presented The Modern Learning Culture - What Makes it Tick? for InSync Training's popular BYTE series on September 16th.
My goal for the session was "to talk about the drivers of the modern learning culture, how people are learning, where people are learning, and 10 things I think you can do right away to impact learning culture."
Participants came prepared with questions, and shared valuable wisdom and resources with the group – this blog post will impart that information to you.
Prior to the session starting, a participant posed this question to the group: "What do you see as the modern learning culture's biggest challenges?"
"Technology literacy levels."
"Still stuck with Death by PowerPoint in cbt's."
"Multiple generations and styles of learning."
"Change management – how to get people on board with blended learning, e-Learning and finding the right combo."
"Despite all the new tech tools – we still fight time to train, to learn & management support."
"Sustaining learner attention in a culture 'driven to distraction.'"
"Participants being too intimidated to engage. Makes it difficult to assess learning despite best efforts to draw them out."
"We don't have to measure every little thing anymore."
I asked the group for their perspective on "What is different about learning today? What's driving the culture to be different?"
"Time, money, geography."
"Technology and social learning."
"Social media."
"We value adult learners differently."
"Need for access now."
"Being more connected to the learning occurring in the classroom to the world outside the classroom."
"What do you miss about the old learning culture?" I asked the attendees.
"Trainer had more control."

"Making better connections – enhancing the relationships with peers."

"Informal conversations during breaks. Lots of great information comes from informal conversations."

"From reading long hard copies, now it's time for short videos and bite-sized learning."
I asked the group, "How do we need to evolve our learning culture to support a global, mobile, and social workforce?"
"Get executive level buy-in for virtual learning."
"Multi-intelligence learning approaches."
"Get all four generations comfortable with new learning."
"Give the learners what they want instead of dictating how the learning will look."
"Teach participants how to learn online."
A participant inquired, "Do you have a concrete example of establishing collaboration as a competency?"
"Well, we worked on a sales training program for high-end sales people. We taught them in the live class how to sell a new product, a very high-end product, a million dollar product, as a group. They each had a role, and they worked through a role play. And this class went on over six virtual sessions. Then they were supposed to take the way that they interacted with other people on the team and apply it back to the real job and had a summary to see how they worked with the other people."
I asked participants "Tell me in chat why is it important to have organizational buy-in, to have managerial support in this new learning culture?"
"They reinforce it on the job…or not."
"Funding available and time to spend on projects."
"People look to their managers. If the managers aren't interested, then employees may follow their lead."
"All some managers need to hear is that the learner is in charge of their learning and they think that training is not necessary anymore."
"Supports L&D as a strategic aspect of the business."
"If that buy-in isn't there, learning isn't important and nobody takes the time to learn."
"Demonstrates a willingness to continually update, train, improve and learn."
"Learners need support to take learning from training to job."
I wanted to know if "any of you have an internal community of learners or practice?" Participants shared:
"We run several communities of practice for suicide prevention practitioners via a webinar platform."
"Very small pockets. Few participants and a couple of units."
"Learning and Development Succession Planning Community of Practice."
"We're trying to set them up, but other training priorities keep derailing our efforts."
"I participated in one through a public workshop I attended. It was hosted via LinkedIn."
An attendee asked me, "How do you differentiate information from learning?"
"I think information is part of learning. If you think about learning objectives – everything goes back to instructional design doesn't it? – learning objectives are informational objectives. There's knowledge, there's skills, and there's behavior. When it's straight knowledge, that's information sharing. When it's straight information sharing, it's not training because we aren't asking them to do anything. In training, formal training, we're giving people a chance to practice and achieve a level of mastery. I don't think that we should eliminate information sharing from our mix; we just need to know the difference. I also don't think information sharing needs to be evaluated. We can evaluate the process to see if it's working, but we don't need to evaluate Darleen on whether or not she's learning. She came here to share information, not necessarily to practice and apply. Once we get into training, there's an evaluation component."
For more information, click here to access the full BYTE session recording. Resources about learning culture, from both InSync Training and outside sources, are listed below.
Additional related resources: