Today's workforce is more global, virtual, and mobile than ever before. Learning professionals must adapt to this new culture in order to best support modern learners. Based on Jennifer Hofmann's recent BYTE presentation, The Modern Learning Culture - What Makes it Tick?, this microblog series will present ten ways that learning professionals can evolve in order to successfully navigate emerging learning culture.
This is the seventh post in the series. Click here to start with the first post.
For additional information and support, download the InSync Training infographic, What is Driving the Modern Learning Culture, and watch the recording of the BYTE presentation, The Modern Learning Culture - What Makes it Tick?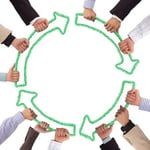 Seventh Way to Evolve with the Modern Learning Culture: Reflect as a Team
To continue to evolve with the modern learning culture, I encourage you to reflect as a team.
Reflection in Modern Culture
I've identified four main drivers of modern learning culture. One key influencer is that globally dispersed virtual teams are everywhere. These virtual teams are not only geographically disconnected, they are also comprised of many different cultures. This distance can hurt individual and team performance. Requiring reflection can help bridge the gaps inherent to global and virtual teams. We all have a lot of inner thoughts, but when teams stop to consider their work, learning continues to happen. In the modern learning culture, individual employees must reflect on their own performance and then share with the group.
The Value of Reflection
In training, we have an awareness that reflection or debriefing is very powerful. In fact, so much learning takes place during reflection, if we teach people to debrief, and we model debriefing well, we can start to impact the modern learning culture.
Encouraging Reflection
Luckily, social collaborative networks and communities of practice make it easy to include reflection in our learning programs. These types of communities provide a safe place to address shortcomings and share best practices. Ultimately, thanks to reflection, best practices can become common practices. They'll no longer be something to strive for – they'll be something teams are already doing.
Final Thoughts
If you're going to evolve with the modern learning culture, it's necessary to encourage team reflection. Why? Because when people are willing to say, "I don't understand," or "I'm having a hard time with this, can you help me?" it builds trust. We can then model the trust and reflection established during learning programs in our working environment. That moves us towards the ultimate goal: impacting work culture and on-the-job performance through learning.
To read the next post in this series, click here.