Today's workforce is more global, virtual, and mobile than ever before. Learning professionals must adapt to this new culture in order to best support modern learners. Based on Jennifer Hofmann's recent BYTE presentation, The Modern Learning Culture - What Makes it Tick?, this microblog series will present ten ways that learning professionals can evolve in order to successfully navigate emerging learning culture.
This is the sixth post in the series. Click here to start with the first post.
For additional information and support, download the InSync Training infographic, What is Driving the Modern Learning Culture, and watch the recording of the BYTE presentation, The Modern Learning Culture - What Makes it Tick?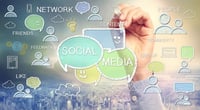 Sixth Way to Evolve with the Modern Learning Culture: Create Community
My sixth recommendation for evolving with the modern learning culture is to create community.
Types of Community
While we hear a lot about community, especially with the rise of social collaborative tools, it's still an ambiguous term. Because of this, I would like to discuss three types of community:
Personal Learning Networks: Almost everyone has a Personal Learning Network. It's your professional peer group, mentors, industry experts and entities that you look to for information. Examples include LinkedIn groups, Facebook pages, and blogs you follow.


Community of Learners: A group of learners who are new to a particular piece of content. They will learn from one another, but we don't expect them to have expertise while they learn. A Community of Learners closes at the end of a learning session.


Community of Practice: a Community of Practice grows from a Community of Learners. It includes experts on the topic and those new to the content. Communities of Practice exist beyond live learning events. They save content internally, allowing it to serve as a repository for tribal knowledge which can be used as a reference at any time.
The Bigger Picture
If we start to connect our Personal Learning Networks and create Communities of Practice, we can really impact our learning culture. By creating community, we teach people what kind of resources they can use outside of training. We show them how to use those resources. Communities encourage inter-learner sharing, thus embedding learning into work.
InSync Training's Virtual Community of Practice
At InSync Training, we created a virtual Community of Practice on Facebook. Learning professionals with different backgrounds and areas of expertise come together and post questions that other members can answer. Participants also share relevant articles, blog posts, and lessons learned. We freely share wisdom and solve common problems.
Final Thought
It's necessary for us to create community if we are going to evolve with the modern learning culture. Community embeds learning in the flow of work. This process helps us become partners in the business and facilitators of learning, no matter how people learn.
To read the next post in this series, click here.