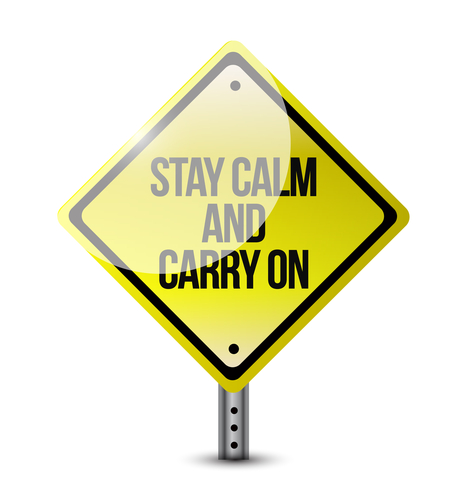 This is a real-life webinar disaster that happened to ME this week. Keep reading to the end to review our 4-Step Disaster Recovery Process and learn how to maintain credibility when virtual classes and webinars start to experience problems.
So this happened....
The host logged on two hours before the session.
The panelists logged on one hour before the session.
Extra computers were logged in. Everything was tested.
And then...it happened.
The audio system fails. But not everyone at once. For a few people here and there. So the host asks them to reconnect. And it works.
Then the presenter (ME!) gets a visual message that I have been disconnected from the audio conference - so I stop talking. Turns out, the message was not correct.
So the next time I got that message, I kept talking. But this time, I really was disconnected.
The host got kicked off as well, so I was left to make some decisions on behalf of my sponsor and the webinar participants. With approval via chat from the host, we did the following:

Sent a chat message indicating we would reschedule, and also included a link to the handouts from the sesson.
Wrote the same message on the whiteboard. (Because there was a delay in chat.)
Verbally assured everyone they would be informed of the new date and, if they couldn't attend, that they would have access to the recording.
Host sent a follow-up email to all registered participants confirming all of these details.
All together, the participants lost about fifteen minutes of their time.
I think the team pulled together a good recovery. What do you think?
---
The virtual classroom can be easy and work flawlessly but sometimes you get learners speaking out, saying they cannot see slides building, the slides are moving slowly or they cannot hear the presenter. Or your learner's keep getting kicked out of the platform. Or you have one learner who can't login. The list of things that can go wrong with learning technologies often seems endless but they're easy to deal with when you're prepared.
4-Step Disaster Recovery Process
As part of our Master Virtual Producer (MVP) Certificate course at InSync Training, we discuss and share the "4-Step Disaster Recovery Process," which addresses how to diagnose problems and minimize anxieties to keep the session going.
With the exception of power outages, built-in web conferencing platform errors and internet failures, there are no disasters that you cannot tackle using this 4-step process.
Step 1 – Minimize anxiety. If participants are experiencing problems, the first step is for you to minimize their anxiety. With your in-depth knowledge of the web conferencing platform, you should be able to understand what the learner is experiencing and what they are seeing — so put them at ease by explaining that these things can and do happen and that you have a resolution.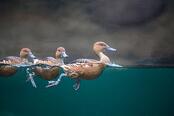 By staying calm and keeping your voice authoritative and controlled, you can exude an air of confidence that helps to alleviate their anxieties. Don't panic and don't blame the technology, just stay calm and carry on. Be like a duck, floating calmly on the surface, but paddling furiously under the water!
If you are working with a producer, let the participants know early in the session to connect with that person for technical support through chat. If something goes wrong with the technology, then the producer can chat with them, get their mobile number and call them to troubleshoot while the facilitator continues on with the session.
Step 2 – Identify that there is a problem. This is where you need your detective skills. Learners must explain as best as they can what is happening and what they are seeing (or not seeing).
First, you need to determine if the problem is instructional or technical in nature.
A problem is 'instructional' if there isn't a real technical problem; someone simply doesn't know the points and clicks needed to complete a task. Perhaps they don't know how to mute a microphone or activate whiteboard tools. If it's instructional, provide clarification for the whole group, as more than one of the participants may be confused but only one has spoken out.
A technical problem is one that can't be solved with simple clarification. For example, a corporate firewall doesn't allow certain content to be displayed. If it's technical, you need to drill down and establish whether the problem is affecting just that one learner or the entire group.
Ask your other learners to use the hand raise tool to indicate if they are also experiencing problems, whether they are instructional or technical in nature.
Once you have identified whether the problem exists and whom it is affecting, you can move on to resolving it.
Step 3 – Get participants up and running. If you have determined that the problem is technical in nature, you need to do your best to get the participants back up and running as quickly as possible.
If support is available (your producer), have him or her troubleshoot with the affected participants. The producer should phone the participants and walk them through the problem.
If you're by yourself, ask participants who have the problem to log out and then log back in.
Next, ask them to close their browser and click the meeting URL again.
Finally, ask them to reboot their computers and rejoin.
If the problem persists, ask them to contact technical support (either their internal IT contact or the web conference provider's support). Because there are so many permutations of system configurations, virus checkers and firewalls that could be causing the problem, you need cut your losses at this point to keep the learning going.
Remember; don't sacrifice the majority for the minority. If there is one person who is having all kinds of issues, they need to try again another day. You don't want to disrupt the entire class and make them sit through all of the gory details of getting just one person functional.
Step 4 – Determine the next steps. If the fix works, acknowledge that the participant has re-joined the session and continue.
But if the fix does not work, then you will have to politely dismiss the participant from the session and follow up later with other options: contact technical support, take another session, access a recording or go one on one with a facilitator.
Afterwards, log what went wrong and create a list of common problems, which you can even convert into FAQs to be used within the participant workbook.
When participants experience technical difficulties, the technology takes over and learning can stop. Using this 4-Step Disaster Recovery process will help you to deal with almost any technology issue that might come up.
Would you like to learn more about handling technical challenges in the virtual classroom? Click on the graphic below to read about our Master Virtual Producer (MVP) certificate course and learn how you can earn your very own MVP Badge!