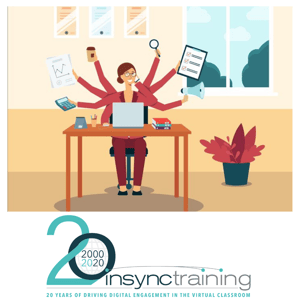 February's installment of the InSync 20th Anniversary Team Insight series pulls the curtain back on virtual classroom stagehands: The Producer. Read the other blogs in the series to learn about modern learning instructional design, facilitation, and implementation from the best in the business!
Producers add an integral layer of support in the virtual classroom, and we have considered them key to our success in supporting clients, major training initiatives, and one-off sessions. In the past, we've described them as "stage hands," the invisible players behind the metaphorical curtain who ensure the main event goes off without a hitch. But their importance extends far beyond their technical savvy, as they:
Provide another voice in the virtual classroom, creating a dynamic and multifaceted experience

Serve as learner advocate, keeping an ear to the ground for issues, hesitations, or insights that may otherwise go

unaddressed

.

Contribute to a seamless blend, connecting the dots between live sessions and self-directed activities and resources.

Ensure training programs meet key benchmarks, keeping learning on track and on schedule.
Each day brings something new for a Producer – different platform malfunctions, unique learner questions, and unexpected requests from facilitators or SMEs. Recently, we asked our Producers to share a memorable experience they had during a session, and their stories did not disappoint. We will share more throughout the year, but these tales from Cindy F. and Jen J. really drive the point home: Producers' ability to stay calm and collected keep all of us (and entire training programs) on track.
Kick Starting a Career in Starbucks Parking Lot
"Well, practically everyone has heard my Starbucks story by now! When I was new to InSync, I was super nervous. One of my first classes started at 5 o'clock in the morning, so I had to be down in my office by 4 am. I came down to my office in my pajamas with my crazy bed hair and fired up my computer. Only to find that I had no internet. Nothing. And it's 4 o'clock in the morning! Because it was so early, my internet provider wasn't available to troubleshoot. I scooped up my laptop and my husband's laptop and headed out to Starbucks, still in my pajamas, hoping I could catch their Wi-Fi from the parking lot. Luckily, my plan worked, and I had a power adapter for the car. I sat illuminated in my car in the parking lot at Starbucks for two hours while I ran my class! Whew! And, if I hadn't been in my pajamas, I would have gone into Starbucks for a double espresso after all that!" - Cindy F.
Swooping in to Save the Day...and the Animals
"I once supported an entire session with a facilitator who was only on audio due to a power outage, but I have also had multiple 'surprises' due to our wild animal rehab. Once, I was stuck in my office because a falcon had escaped and was just outside my door, looking for food if I opened it. I eventually got out by using a pillow to protect myself from him as he swooped in for a meal." - Jen J.
Have a crazy Production story? An example of a time when Producers saved the day for your virtual learning session? Share them below in the comments and subscribe to our blog to receive upcoming blogs right in your inbox!
Each month, InSync's 20th Anniversary Team Insight Series will share recommendations and wisdom from our team's resident experts. Be sure to subscribe to the blog for email notifications when a new edition goes live!