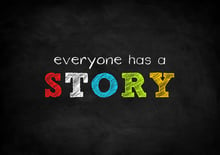 Virtually There Recap
Did you know that you have stories constantly running through your subconscious mind? It's true! Without realizing it, you frame every interaction through narrative, creating underlying bias. Good, bad, or indifferent, your bias influences how you navigate the world.
This fundamental brain biology impacts professional relationships, too. Before every conversation or task, you anticipate how it will unfold.
Think about the work you do. Maybe it's training, sales, operations, or project management. How would the bias of your target audience impact the possibility of success? Facilitators and instructional designers often say, "My audience dreads mandated training." Sales representatives lament the process of cold calls, highlighting that, "Even though I have a solution to their problem, people don't want to deal with a sales call."
An Unexpected Solution
Maybe the answer doesn't lie in fancier blended learning or more innovative products or additional potential buyers. What if undoing the bias of your audience could make all the difference? Christine Miles, co-founder of C.i squared and guest Virtually There speaker, knows from her background in psychology and years of practical experience that the right story can help us better reach our audience.
Gathering the right story to change their underlying bias applies across industries and regardless of job title. According to Christine:
"Understanding people is fundamental to business. I don't know anyone who would disagree with that. It goes beyond understanding people to being a psychologist in your business. And what that means is knowing what makes you effective. When I think about that – how can we simplify how to understand people… what we know now is that the brain science has changed so profoundly that we now know is that the underpinning of what's happening in the brain is that we're telling ourselves a story."
With the right approach, we can guide the conversations we have with our target market and influence their story to form a helpful solution.
The Trick to Getting the Right Story
Leadership books, success blogs, and relationship experts argue that active listening can revolutionize your life. While not a cure-all, active listening is of paramount importance on the job. Despite its inarguable importance, most of us have never taken a formal class or training program on how to listen better.
To immediately improve your listening skills, Christine urges you to first consider common inhibitors, like:
Needing to be right
Mind reading
Rehearsing
Filtering
Judging
Being the expert
With only ears
Advising
Sparring / fighting
Placating
Distracted by technology
Understanding what's getting in the way of really connecting with others helps you begin to understand their biases. But leveraging that kind of listening within the context of constructive conversations can get to the core of what your audience needs and allow you to better provide it.
Through her research, Christine identified six key prompts that uncover the bias through which your audience views the world, and the story you need to tell to get through to them:
Take me back to the beginning
Tell me more
Then what happened?
How did that make you feel?
Hmmm…. (this reaction lets the story unfold and nudges the teller along)
It sounds like you felt….?
Through this combined methodology, your relationships with your buyers and stakeholders can change the way you do business.
A special "thank you" to Christine Miles and her C.i squared team for bringing her presentation, Curiosity Sells: Stop Selling and Get Your Buyer's Real Story, to Virtually There learners. Watch her webcast replay and download her helpful infographic Why Listening is So Important.