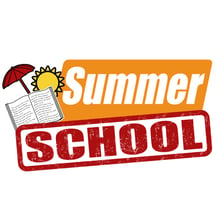 I'm in the middle of my second (and last!) summer of my MBA candidacy. After work every weekday and on Saturdays, I commute 40 miles to class. There I learn about finance, accounting, and leadership – all topics critical to my future career success.
But, as I get into my car and drive in the exact opposite direction of the beach in the pursuit of perpetual learning, I feel a little sad. Even with my goal defined, my forward momentum falters as I think about the missed opportunity to lounge in a cabana instead.
And while I face an extreme version of summer school, everyone struggles with their personal professional development during peak vacation season. So, what can we do to keep learning, even when the summer sun calls our names? I turned to the InSync Team for advice, and, as always, their wisdom proved illuminating and practical.
Embrace the power of wireless internet while sitting poolside. The internet hosts a nearly endless library of learning opportunities. From Lynda.com to YouTube to industry webinars, we have the literal world at our fingertips. We often feel confined to our desks when learning something new, at least I do. Perhaps our lifetimes of learning in classrooms have ingrained this belief in us. But thanks to a magical combination of laptops (or tablets) and ubiquitous wireless connectivity, we can access these learning resources from anywhere. Think outside the box, grab your sunscreen and mobile device, and catch some rays while learning one new thing! (Thanks, Sheryl, for sharing this creative suggestion.)


Plan to attend conferences in destinations you want to visit. Industry conferences take place all over the world, and many happen in the summer. In my experience, they also provide a learning-dense experience. Between concurrent sessions, expert panels, and keynotes, you can learn more in two days than you might over a 12-week course. Plus, as my coworker Cindy observed, you can tack on time at the end of the conference to enjoy the location or invite a colleague to go with you. Combining training with a mini-vacation and peer-to-peer collaboration and accountability increases your engagement in the process.


Learn on-the-go. Remember that school commute I mentioned? I pass the time by listening to eBooks on Audible or podcasts. I don't always tune in to work-relevant content, but I somehow always learn something new on the drive. For example, Revisionist History with host Malcolm Gladwell teaches me about obscure things and their ties to larger trends. My brain feels exercised when I get to school, and I feel smarter than I did when I pulled out of my driveway. These digital narrative options work well for both long commutes and brief interludes, making them extra beneficial.


Schedule your professional development. Competing priorities make it easy to neglect learning at any time of year, but especially in the summer. Since beginning my graduate program, I've realized that I use my calendar as my "be all end all." If a task or meeting does not have a placeholder on my calendar, it gets pushed to the bottom of the pile. In addition to my class and assignment schedules, I block off time to learn new things related to marketing and operations every week. In the Outlook Calendar placeholder, I include links to a recording I want to watch or articles I want to read or training classes I need to attend. Doing so reinforces the value of these efforts and alleviates the stress I feel if I fall behind on my professional development.
How do you balance the need to recharge with the reality of ongoing skill building? I welcome your recommendations and look forward to reading them in the comments below!