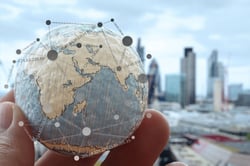 As our organizations expand, we will rarely create a training program that will only have one delivery run in one location.
The very nature of multinational corporations demand global learning initiatives. Even businesses classified as "small" now include dispersed team members (ours does – InSync's 70 practitioners live and work on almost every continent).
Problematically, many stakeholders believe that rolling out global training just means "deliver existing content to every cohort."
But, in our experience supporting organizations through this transition, it's more involved than that. Program managers need to consider complex schedules, learner expectations, and regional differences. And most importantly perhaps, we need to lay the foundation for a global program through thoughtful instructional design.
Design as a Blueprint
For a wide-scale blend, we need to start with a blueprint. Curious as to what design approach supports a global initiative? Designers need to think about the following:
Learners need the right content, delivered at the right time, through the right format.
Content requires context, which regionalization can provide.
Learning must tie directly to business goals.
Inherently, global blended programs involve many components. By extension, these programs can seem unwieldy, complex, and overwhelming, even for the most experienced trainers. Imagine how non-expert stakeholders feel!
An instructional design blueprint helps us efficiently organize the components of a global training program so we can ensure:
Learners will have access to the correct sessions, resources, and practices activities based on their professional development needs.
We understand where contextualization and scheduling will be needed.
Stakeholders can see the vision for the program and its connection to defined business outcomes and learning objectives.
Follow a Proven Process
To use a design blueprint for your global blend, work through a number of stages:
Start with instructional design. Engage a task force to complete a needs assessment and define performance objectives.
Create an understandable approach. This is your blueprint! Translate training jargon into more common language (ex: performance objectives become "guiding questions).
Fill in the blueprint.
A global program will include a myriad of content that needs to come together in a coherent blend. During the design phase, you will wind up with a pile of blog posts and toolkits, curated resources, and live online sessions. Organize this content pile in such a way that it supports a perpetual learning model that touches all moments of learning need.
With a global learning program, we need to get out of just supporting those learners who are in front of us learning something for the first time. We need to ask the following questions:
What do these people do when they need more assistance or need to learn more?
What support do they have when remembering or applying?
What do they do when something goes wrong or something changes?
If we combine a blueprint that explains the plan, address all moments of learning need, and map it out visually, we can start to communicate our learning plan and get it out before we start to create expensive media that might not provide the proper instruction or reinforcement.
By focusing on design as the foundation of a global blend, you'll set all learners – regardless of location or native language – up for success!