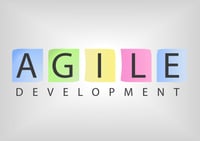 Virtually There Session Recap
Agile's all the rage with our organizations and teams right now. And for good reason!
Agile provides a function model to address many of the nuances involved in work today, including multitasking and unclear boundaries. Agile allows teams to purposefully come together to focus on a single project in an environment that learns from failure. That's a big deal in today's competitive landscape.
George Washington University created this helpful visualization of Agile: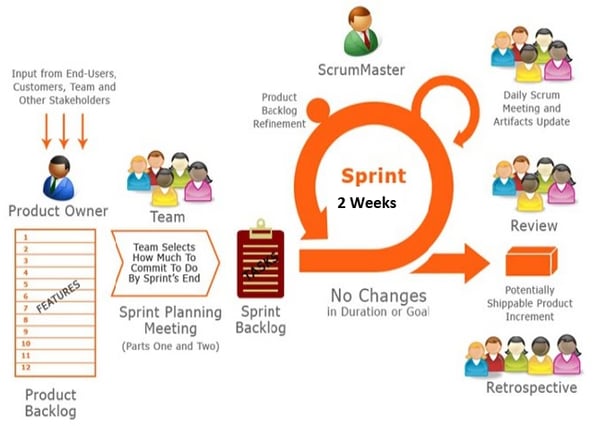 But every game-changing process and philosophy includes challenges, and for Agile, people struggle with the exact features that make it innovative. Lou Russell, Director of Learning, Russell Martin & Associates, a Moser Consulting company, brought her wisdom and perspective to our Virtually There series recently, sharing the nine people challenges she's seen with Agile development.
Through her work, Lou discovered that talent, culture, and hierarchy prove especially tricky for teams trying more Agile approaches to work.
Challenge 1: Talent
Introducing Agile brings with it talent-related issues that require consideration. Lou observes that talent areas like governance, leadership, employees, and technology become pain points. When changing the way we work, we also change the way we manage talent. How does organizational design change with Agile? How do employees receive performance reviews of their work if technically everyone on Agile teams have equal standing? How do leaders become supportive, collaborative servant leaders?
Employees need to learn new roles, while trusting an unfamiliar process. As we try to simplify the way we work, the technology we use to support our jobs get more complicated. Considering the implications of Agile on these aspects of talent helps us better prepare our organizations to manage the modernization.
Challenge 2: Culture
Fundamentally, Agile culture centers on "more value, delivered faster." It delivers on the promise through four factors, which Lou defined:
Agility – "Responding to changing business needs and technical challenges."
Efficiency – "Reducing handoffs and keeping it simple by working together."
Quality & Predictability – "We want our work product to be good, and we can achieve that by involving the right people."
Accountability – "Decisions live as closely to result owners as possible. All team members are equal."
Fundamentally, Agile relies on collaboration, and our organizational cultures have to support and encourage inter-employee collaboration. Building teams thoughtfully and purposefully reinforces the essential culture. Diversify Agile teams so they include a variety of strengths, taking care to address blind spots that make it difficult to collaborate and make decisions.
Challenge 3: Hierarchy
In many cases, Agile introduces a modern way of working into traditionally organized companies. Traditional firms focus on producing goods and services. They're bureaucratic and hierarchical, and only communicate information as-needed. When completing a project, traditional organizations use a single, overarching plan. People stay in their roles, and transparency is narrow.
Agile, though, strives to delight clients, engage self-organizing teams, and project iteration. As we move from a traditional hierarchy to this more radical management approach, Lou asks us to remember that "this is a giant cultural change… we have decentralized decision-making in centralized organizations." Understanding that this presents a potential obstacle for our employees and managers encourages us to address it before it derails our Agile development.
Want to learn more about Agile and all nine people challenges? Watch Lou's entire Virtually There session replay and download the associated infographic.