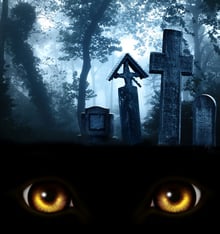 It was a dark and stormy Tuesday, and all across the globe seasoned virtual classroom facilitators faced a malicious monster: a modern classroom meltdown. "What happened?" you inquire.
Well, the things that go bump in the night during training programs seem innocuous enough, but they send shivers down the spines of training practitioners and scare modern learners from engaging in future programs.
Two particularly terrifying tales may have you preparing for your next training session a little more seriously.
The Cursed Webinar
A well-known industry organization invited Jennifer Hofmann to share her wisdom in a one-hour webinar. Jennifer created an engaging presentation on a trending topic. Hundred of learners, eager to collaborate with a blended learning expert, flocked to the session.
The host organization selected a common virtual classroom platform for the event. But, Mother Nature would prove a formidable foe. Just as she finished her introduction, Jennifer heard the thunder roll in. "The weather station didn't mention a storm," she thought, "I'm sure it'll pass." Little did Jennifer know in that moment how incorrectly she assessed the situation.
No fewer than five minutes later, a window-shaking BOOM exploded in the sky. The lights flickered, making an effort to stay lit, but unable to continue casting light as the power went out. For a moment, Jennifer sat in the dark, stunned by the unpredictable events. But, like many a horror movie heroine, she jumped into action, determined to overcome.
Thankfully, Jennifer's office is connected to a generator, allowing her computer to boot back up. Internet, though, would prove a trickier hurdle. Brilliantly, Jennifer thought to use her cellphone as a hotspot to not only contact the webinar host, but to also connect her back into the event room. In under a minute, Jennifer's quick thinking got the session back on track and kept learners engaged.
The Invasion of Creepy Crawlies
The virtual classroom is, well, virtual. Learners log-in from home offices, airplanes, the corner Starbucks, or their cubicle. And while the outside noise of a learner's personal classroom can distract from the topic at hand, sometimes a more alarming invader makes their way into a live online event.
One of our producers recently sent an SOS message in our company Watercooler (a Skype room where we chat about all kinds of stuff). In the middle of her session, a bat flew into her office. While calmly and coolly maintaining her composure as the facilitator's right hand, she asked her team for help. While launching breakout rooms and answering questions, her fellow producers searched the internet for a guide on bat removal.
With the tips provided via back channel chat, our fearless producer humanely and safely removed the winged intruder while the learners took a five-minute break. The client never knew that a Dracula impersonator attempted to suck the life out of their session.
Saying Goodbye to Ghastly Glitches
Now, these two modern learning horror stories ended happily, but classic Halloween films prove this doesn't happen often.
In both cases, preparation and quick thinking made all the difference.
We recommend facilitators think through all the worst-case scenarios they can imagine during their pre-session planning and then practicing the contingencies with the rest of the instructional team. Communication plans for both hosts and learners clear up any confusion when something pops up. And finally, producers benefit from a disaster-recovery plan, as they're a critical sidekick when things go wrong.