Today's workforce is more global, virtual, and mobile than ever before. Learning professionals must adapt to this new culture in order to best support modern learners. Based on Jennifer Hofmann's recent BYTE presentation, The Modern Learning Culture - What Makes it Tick?, this microblog series will present ten ways that learning professionals can evolve in order to successfully navigate emerging learning culture.
This is the tenth and final post in the series. Click here to start with the first post.
For additional information and support, download the InSync Training infographic, What is Driving the Modern Learning Culture, and watch the recording of the BYTE presentation, The Modern Learning Culture - What Makes it Tick?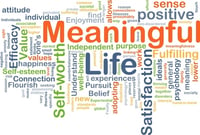 Tenth Way to Evolve with the Modern Learning Culture: Make Learning Meaningful
My tenth and final way to evolve with the modern learning culture is to make learning meaningful.
The Science of Meaningful Learning
According to research, bullet points are bad for a presentation. When learners attend events and sit through lectures with bulleted slides, they have a difficult time remembering what has been taught. When learners have to flip between reading slides, and listening to a presenter, their brains become exhausted and they don't retain information well.
Why does this matter? Because traditional and virtual training programs rely on this approach. The solution to more meaningful learning is simple: minimize bullet points and make training practical.
Adult Learning Theory
One way to minimize bullet points and make meaningful learning is to apply adult learning theory to your designs. Remember: just because this is a new learning culture, the adult learning principles haven't changed.
Recognize that adult learners are internally motivated and self-directed, so they want the content when and where they need it. Adult learners are practical, and lack patience for "nice to know" information. They are used to completing skills-based training, not long term education. If they don't see the purpose of something and they don't apply it right away, they may not check in.
Adults want to do a good job, which ties into being goal-oriented. They find it frustrating when they want to complete a task and can't because they don't know the last step in the process. Lastly, adults appreciate having their opinions and real life experiences respected. Take advantage of social community tools so learners can communicate and share.
Homework Hang-Ups
Another suggestion I have for meaningful learning involves language. In many training programs, it's traditional to include homework. Managers and participants, however, may have a negative knee-jerk reaction to this idea. We know pre- and post-session work are integral parts of any structured program, so eliminating them isn't an option. My recommendation: change how you discuss the assignments.
Don't call things homework or pre-work; refer to each piece as a lesson, activity, or assessment. This approach makes everything equal and reinforces the importance of the content. Learners have been conditioned to believe that pre-work and homework are optional; they get angry when they discover that they missed something when they didn't complete an assignment. We need to set expectations that every part of the program has merit and importance. A language shift can accomplish all of these goals.
Final Thoughts
Designing and facilitating meaningful learning is key to evolving with the current culture. By honoring adult learners, minimizing bullet points, and changing your language, facilitators can have better conversations with learners and participants can gain more applicable knowledge.