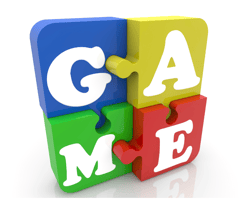 When we think of corporate learning, rarely do "fun and games" come to mind. More often than not, compliance training pops into our heads, characterized by endless slide decks, droning SMEs-turned-facilitators, and uncomfortable days spent in a classroom. Folks, training has a reputation problem. Our learners perceive traditional training as outdated and ineffective.
But, blended learning provides an opportunity to change minds. Designers can select unique, engaging treatments for each learning objective. Facilitators transition from a "sage on the stage" to a "guide on the side." Learners regain control over their learning experiences and prioritize the skills they most need to build.
Gamification and game-based learning, when used appropriately within a blend, supports all the key actors in modern learning.
The Basics
Before leveraging games in your L&D initiatives, it's important to first understand the difference between two common approaches: gamification and game-based learning.
Did you know? Gamification does not include a game! Instead, gamification uses game mechanics and principles within a non-gaming context, like an eLearning module, for example. These principles motivate learners to achieve a defined end goal. Designers commonly use incentives, like badges, to encourage learners to complete tasks. And while learners often compete against one another or track their progress on a leaderboard, competition is not the focus of gamification. Ultimately, learning serves as both the foundation and the mission of any gamified activity. Wearing a FitBit? That's a great example of gamification.
On the other hand, Game-based learning incorporates an actual game into the blend. Games immerse learners in the skill-building process. Like gamification, game-based learning focuses on a specific learning objective or skill, but in this case, the game itself serves as the learning program. Organizations or specific departments can develop their own games to teach a specific skill required to complete a key job role or to learn a new technology. For example, an InSync employee remembers learning how to type correctly thanks to a game they played in their school's computer lab called Mavis Beacon Teaches Typing.
The Benefits
Despite the popularity of gamification and game-based learning, many trainers say, "My company resists the idea because it doesn't sound like real training." And, understandably, many stakeholders would likely raise an eyebrow at investing training budget into a zombie-themed game to teach a new sales platform. Our team recommends more clearly explaining the benefits of these models to gain buy-in.
Learners and learning leaders alike recognize games as benefiting the training process by:
Motivating employees to participate.

Creating an engaging experience for learners.

Promoting a sense of achievement and accomplishment throughout the program.

Providing learners an opportunity to practice skills in a low-risk environment.
Most importantly, though, gamification mirrors how we learned some of our most important soft skills as children. Kids learn complex skills like communication through play. Many learning theories argue that play serves as an integral part of all learning. Gamification and game-based learning honors and integrates these theories into a larger blended initiative.
Questions to Consider
Creating learning games requires a thoughtful approach and oftentimes more complex technology than designing webinar content or face-to-face classroom training. Asking the right questions before jumping into design and implementation can make all the difference.
Consider these factors:
Which learning objectives or skills lend themselves to gamification?

What tech program will I need to create my game? Do I already have access to that technology?

How do I plan on communicating the value of the gamified learning to my managers?

Do I need to include incentives to encourage task completion?

When will my learners know they have successfully mastered a skill or completed an objective?

As a facilitator, how will my role differ in this scenario?
While not comprehensive, this list gives you a starting point as you consider introducing games, and possibly an element of fun, to your truly modern blend!