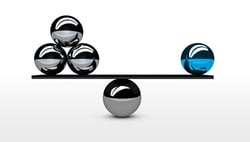 Bringing balance to the blend isn't an uncommon topic for our blog and the idea that we need to match learning objectives to the most appropriate instructional strategies and technologies is the foundation to our campaign approach to designing blended learning.
But there is more to the balancing act than just design. Once the development is complete, it's the job of the facilitator to guide learners though their journeys.
But that's a tough job – it's confusing to be a person in charge of classroom training, virtual training, discussion board moderation…. I could go on! You probably didn't sign up for this – you were VERY good at traditional training delivery – and then the business changed and now you need to facilitate virtual and blended learning.
As you prepare for this new reality, you find yourself asking questions such as:
"What is my role in the modern classroom?"
"How is the role different than more traditional models?"
"How will I help guide my learners through the sea of knowledge and pave their learning journeys?"
You are not alone.
So, what is the role of the virtual facilitator?
To make modern learning work, the facilitator needs to be a trainer, coach, and a mentor.
Trainer – A trainer facilitates the transfer of new knowledge and skills. The main role of a trainer is to impart knowledge through instruction. Trainers are typically found in group settings (classrooms, virtual classrooms, etc.) and they influence learners in using a very structured approach. A trainer is often a subject matter expert (or close to it!) concerning the topic at hand.
Coach – A coach sharpens the skills a person already has, to help individuals excel in the content area being taught. The main role of the coach is to offer advice on the basis of an understanding of the strengths and weaknesses of the learner so that they develop the ability to use the content. Coaches see the potential in individual learners and help them navigate their own paths so they can apply new knowledge and skills.
Mentor – A mentor is a true subject matter expert who acts as an advisor to another individual, their protégé. The main role of a mentor is to offer guidance. They actively help develop the professional capacities of the protege. The mentor advises and allows their protégé to find his/her own learning path. Mentors have years of experience in the field of study which allows him/her to guide the learner.
Since modern learning is perpetual, and not over when the actual TRAINING EVENT is finished, today's facilitators have to start to learn how to fulfill all of these roles.
As a matter of fact, virtual facilitation in the modern classroom requires the ability to move in and out of these roles regularly throughout the course of an individual session. We tend to focus and get "caught up" in the trainer role and wind up turning our sessions into webinar style events – transferring knowledge only. And this, of course, leaves learners with a bad taste of the virtual classroom.
Balancing these roles is not an easy task, but it can be done. With some practice and training in advanced facilitation skills, individuals can start to blend these roles to create the ultimate learning experience for their audiences.
Virtual Trainer – Content Expert

Uses activities to help a learner develop or enhance knowledge, skills and attitudes to improve performance on a current or future task. This can be done in the virtual classroom via:

Guided lecture
Large and small group discussion
Application sharing – content tour
Whiteboard activities
Group brainstorm chat activities
Virtual Coach – Guide on the Side

Uses live and offline digital assets including but not limited to discussion boards, infographics, and job aids within the learning management system to guide and support the learning through:

Discussion boards
Guided breakout group projects
Reflection papers and coaching meetings
Rehearsals and feedback sessions
Live and online peer coaching
Virtual Mentor

Uses individualized techniques to allow learners to showcase knowledge transfer to real job activities providing feedback of strengths and areas of improvement.

One on one coaching
Teachback of content with feedback
On the job shadowing and feedback
Office hours
A safe environment
The facilitation role encompasses all three of these roles working as much as possible in partnership with the learner to accomplish powerful, long-lasting change in the learner's behavior. It is helping a group of people to change their behavior by learning new skills, practicing those new skills and then performing those skills in a safe environment. In order for a facilitator to be successful he/she must establish some norms with the learners, including:
Establishing trust
Building relationship and rapport
Creating buy-in
Build content confidence in individual learners
The finesse of going in and out of these roles is what will create a successful modern virtual facilitation classroom setting with the outcome of true learning transfer. Knowing when to provide direct instruction, guided instruction and individual practice throughout your two hour live and online lesson is key to your success.
The next time you lead a blended learning experience, especially one that includes the virtual classroom, consider how you might balance these roles and manage your activities in a way that allows you to train, coach and mentor your learners.
Are you ready to take your facilitation skills into the future and create truly modern virtual learning experiences? Our new certificate course, Advanced Virtual Facilitation - Driving Quality Digital Engagement, offers the logical step in your personal professional development. Click here to download the course description and register.