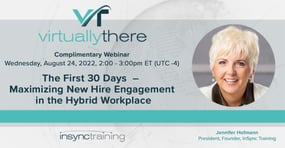 Virtually There Session Recap
Data shows that having a robust and thorough onboarding program can improve new hire retention by 82 percent and increase productivity by over 70 percent, according to Glassdoor. When a new employee sees your company making solid efforts, trust and confidence builds. That's why the first 30-days of the onboarding process is crucial to employee retention.
A strategic onboarding process is the best way to kick-start employee engagement, especially in remote and hybrid workplace. To get inspired - watch the replay of this Virtually There webinar - The First 30 Days: Maximizing New Hire Engagement in the Hybrid Workplace.
You'll learn:
What do employees want during the onboarding process?
What do employers want during the onboarding process?
How does an organization meet the goals of both groups in a hybrid learning environment?
What's critical to accomplish during the first 30 days on the job?
---
Are you looking for an immersive expert workshop on virtual onboarding ? We've just launched 12

NEW

IACET-accredited workshops consisting of breakout activities, microlearning resources and planning tools to keep your team
informed and up-to-date.
Click here to register your team for Getting Virtual Onboarding Right - Maximizing New Hire Engagement in the Hybrid Workplace. Click on the below image for a full listing of expert workshops from Overcoming Zoom Fatigue to Brain-Based Activities that Work in the Virtual Classroom, and many more.
Bundle 5 workshops for big savings!