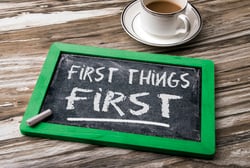 Virtually There Session Recap
Job aids can make or break a blend. They provide support for learners in their informal moments of need on the job. Job aids provide key information when things go wrong, when launching new internal systems or processes, when employees want to learn more, or when it's time to complete an especially complex or uncommon process.
Like all training resources or instructional elements, creating job aids requires a thoughtful approach. But how do you get started designing easily understood, usable, reliable, supportive job aids? Experts Russ Powell and Joe Halpin, co-founders of Peregrine Performance Group helpfully put together an easy-to-follow seven step design process for exemplary job aids.
But Why a Process?
Learning and Performance has a storied and stellar history of providing innovative, helpful training content for formal events. Informal performance support, though, often lies outside of the standard comfort zone. How will we know if learners leverage a job aid? How can we measure the effectiveness or access rates? It's understandable that we get hung up on these questions, since the informal learning feels, well, "fuzzy."
A model gives us a guide. A process provides direction through murky waters. Universally relevant steps create confidence in the resulting resource because we know it meets a need and fits within a larger blend. As important as the confidence it generates, a process also allows for repeatable results. Each final product will meet Russ and Joe's definition of a damn good job aid:
"A repository for information, processes, or perspectives
External to the individual
Supports work activity
Directs, guides, and/or enlightens
Exemplary, works very well."
Setting the Foundation: The Key First Step
Russ and Joe argue that before selecting a job aid format, writing a draft, or connecting with managers, you must first clarify the desired output.
This step will make or break your job aid, because, "like any good learning, performance, or training, you need to uncover the output first." By defining where you want the job aid to end up, you can plan the pathway forward. Determining the goal helps you identify essential information like:
The ideal outcome. What is the best-case-scenario for this task or process for the organization?
Problem to be solved. What challenges do employees face when they need a job aid's support?
Environmental factors. Where is the task in question performed – in the field, at a desk, on a tablet, in high stress situations?
Accomplished performers. Who on the team right now already achieves the ideal outcome?
Common errors, misjudgments. What prevents employees from meeting the desired goal now?
Special circumstances. When can this process or the outcome change?
Whether your organization supports doctors, pilots, engineers, project managers, or manufacturing line teams, exemplary job aids can improve their performance when it matters the most: on the job.
Looking for additional guidance on creating job aids? Check out these additional resources: