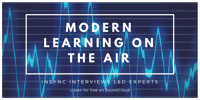 Blended learning is all about connecting the dots – for our learners and our businesses. What content conveys the information our learners need to improve business results?
By using proven instructional design models, aligning them with learning objectives, and deploying personalized learning pathways using available instructional technologies, we can support modern organizations and "search engine" learners.
But how do we get started with this approach? What questions do we need to ask to make sure our organizations are ready to take the leap? When do our training programs end when we leverage a perpetual learning model?
Listen to Jennifer Hofmann's most recent guest appearance on Modern Learning on the Air, with podcast host Phylise Banner. Jennifer answers these questions, plus she discusses:
Her new book Blended Learning, recently released by ATD Press in their popular What Works series
What the modern classroom looks like now
The importance of creating and keeping momentum in blended learning
Narrative as the missing piece of blended learning
Communicating the "WIIFM" to modern learners
Click here to access the podcast for free on Soundcloud!