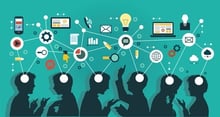 2016 Online Learning Conference Recap
Greetings from Chicago! Members of the InSync Training team, including Jennifer Hofmann, have had the privilege of attending Training Magazine's 2016 Online Learning Conference (OLC). This three-day, in-person learning event highlights some of our most favorite things about our industry: a community of practitioners who believe in collaboration and the transformative power of online learning.
With learning legends and rising stars on the presentation agenda, the lessons learned were innumerable. In the spirit of the modern classroom, which supports skill-building through access to a myriad of resources, we would like to share takeaways from two of the keynote sessions, and some resources to support key themes present in the conference agenda.
The Internet of Things
How, as learning professionals, do we adapt to an ever-changing EdTech landscape, while working against obstacles such as limited budgets and resistant organizations?
Robbie Melton, keynote speaker and Associate Vice Chancellor of Mobilization & Emerging Technology of the Tennessee Board of Regents, discussed how the internet of things, like apps and devices, will help us be innovative in our learning programs.
Every 90 days, technology undergoes a major evolution. Robbie pointed out that, while this sounds overwhelming and unmanageable, we actually accommodate these updates fairly easily in our personal lives. We download new apps, we incorporate new devices into our daily routines, and welcome innovative uses for existing products. Surprisingly, taking advantage of new technology in training doesn't have to include revolution.
Instead, Robbie recommended an approach that includes:
"Reassessing our audiences." We can't make assumptions about what our learners know, or their familiarity with training content or platforms. Instead, before introducing technology into our programs, we must take time to evaluate their skills and comfort level.


"Acknowledge how important mobile is to your learners." We use mobile devices on a daily basis in our daily lives. We check email, pay bills, and so much more on our phones. This provides us with a unique opportunity to combine learning with the existing habits of our participants.


"Validate the information discovered by, and the experiences of, our learners." Like technology, our role as training professionals is evolving. We now have to guide learning journeys, rather than creating them from scratch.


"With emerging technologies, think beyond its intended use to make innovative learning." Think outside of the proverbial box when using new technology for educational purposes. Your learners may have preconceived notions for how mobile devices can be used for learning, and an unexpected approach can create higher engagement.
Launching Learning Ideas
Having non-trainers share their expertise at OLC provides attendees with opportunities to use unorthodox methods in their planning, design, and facilitation processes.
John Zeratsky and Jake Knapp from Google Ventures shared how to build and test an idea in a single working week. Google Ventures works with startup organizations to help them solve issues preventing them from connecting with their audience and bringing an optimal product to market.
Their five-day team approach for working through obstacles associated with implementing new ideas definitely has value to any L&D practitioner designing new programs, or introducing unexpected training methods to their organization.
To finalize an idea and focus-group test it in 40 hours, Jake and John shared the following steps:
Map: "With your development team, define the long term goal and potential challenges of your idea."


Sketch: "Rather than using verbal group brainstorming, have the entire team work through their vision of the idea on paper. It changes the early-stages of development from abstract conversations to concrete sketches the group can review."


Decide: "Groups are terrible at decision making. Stage a speed critique where everyone shares what they like about each suggested approach, let an assigned decision-maker select the final blue-print for idea's prototype."


Prototype: "Create working prototype of your idea that the target audience can review and work through. Each member of your team will have an opportunity to leverage their area of expertise during the prototyping stage."


Test: "Conduct 1:1 interviews with five members of the target audience. Allow the team to watch the interviews in real-time, so they can absorb feedback and make notes for edits to the final iteration of the idea."
Related Resources
Stay on trend with our complimentary resources that match the most popular topics covered at OLC:
Thank you Training Magazine for hosting such an informative event. We appreciate the opportunity to sponsor the conference mobile app and Cyber Café.