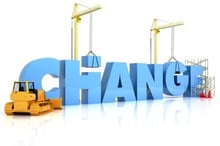 Virtually There Session Recap
Every organization experiences change. Whether it's implementing a new onboard training program or overhauling production processes, the only constant in business is change. What's the most effective way to plan for, implement, and manage critical new developments within your company?
Recently, guest Virtually There presenter Laura Goodrich of GWTnext shared her experience-proven, expert opinion during her session, Driving it Home: Real Change is a Process, Not an Event.
The Change Champion: A Mission-Critical Role
Having worked shoulder-to-shoulder with organizations as they've worked to modernize their business, Laura discovered that one essential element marks the difference between success and failure: a leader tasked with championing the change.
The next generation leader, as Laura described them, possesses the ability to get other leaders and departments to buy-in and shift their historical expectations for learning and training away from just traditional methods towards blended solutions that are aligned with the organization's priorities. The change champion serves as both ambassador and thought-leader: connecting the initiative's larger goals and gaining buy-in from stakeholders and employees alike.
Change champions are also highly strategic. They put together a plan for addressing a much larger challenge facing the organization and work to move the needle in developing new behavior and skills. They align solutions and the strategy to the top priorities of senior leadership in order to tell a compelling story.
Connecting Change to Training
As we know in L&D, any update within the business ultimately includes training to disseminate the information to everyone impacted by that change. Laura argues that the most impactful learning events and resources blend human interaction with microlearning, all as part of a larger program. Instructional designers, consider a learning campaign approach, a la Jennifer Hofmann!
Incorporating human interaction needs to be a priority. Laura explains, "programs that blend human interaction prompt people to have the conversation," bringing them into the process. It's a smart, easy way to get your audience invested in the change.
These training programs matter because they're appearing in a critical moment of need. There's something the organization has identified as a significant challenge or mission, and labeled it a priority. That priority drives the program. Laura detailed her team's approach, elaborating,
"Successful change requires communicating with all employees. These employees want to be able to see and demonstrate a change, individually and collectively. We ask our learners to self-assess the behavioral changes they create, but we can also go in and do 360s and take a look at where and how needle has been moved if that's deemed necessary. It's really critical to begin with leaders. The employees are watching leaders and they're recognizing whether they're talking or demonstrating something as a priority."
Bring It All Together
The essential formula to change management = Change Champion + Blended Learning
By making the role of change champion a part of your initiative, you not only engage leaders, but hold them accountable to demonstrating the priority of the change within your organization. When leaders model the desired behavior, learners, engaged by purposefully designed blended learning, become more engaged and invested in the process.
Looking for more advice from Laura? Click here to watch the entire recording of her excellent session.