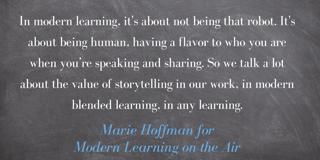 When we begin creating eLearning or video elements for blended learning, our first thought often includes technology. We invest in platforms to create high-end designs. The polish usually ends there. When it comes to adding narration to our finished products, we turn to someone in the learning department and call it a day. This, Marie Hoffman argues, does a disserve to our learners and our instructional designs.
In this episode of our Modern Learning on the Air podcast series, InSync Training's Phylise Banner explores the topic of audio narration with voice talent Marie Hoffman.
Listen here to learn:
Why learning and development should use professional voice talent.
What falls into the category of voice over work.
Whether the target audience impacts the tone of eLearning and video modules.
How to get started doing voice overs and a process for setting up your own studio
Our favorite take-away from this expert interview? Learning design and voice over work have a key thing in common: they're both marathon processes, not sprints. Focused skill building and the right toolkit improve end results. To listen to Marie's podcast, click here.