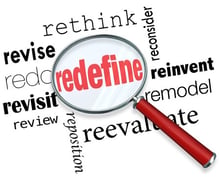 If you are on any learning related email lists, you've been seeing the word "modern" quite often over the last 12 months. Modern learning, modern workplace, modern design, and so on.
What does it mean? And why do we need to make that distinction?
Some would argue that technology is driving the need to redefine learning, and it's time to throw out the old ways of doing things. I would argue that technologies come and go, and it is the learners who are driving the need for modernization of the learning function.
Organizations like Bersin and ATD have published much cited research about the characteristics and needs of modern learners. For example:
Since attention spans are so short, we need to design microlearning to support a pull learning environment, and make sure learning assets are available on mobile devices when it makes sense.
Modern learners know how to use tools like search engines, so the learning function needs to power its content using those types of tools.
The workplace needs to change to become more focused, and provide time to ensure learning happens.
Here's the thing, modern learners need to learn more than ever. And, they want to learn. They know that in order to be successful, they need up-to-date and modern skills. And if we don't provide the environment, the format, and the content that they need, they'll go someplace else to find it.
There are multiple dangers associated with this, including:
Trying to figure it out on their own, learners might not have up-to-date content or learn the appropriate way of getting a task done.
We are in danger of making the learning function irrelevant – if we're not providing the right content at the right place at the right time, then what do you need us for?
Remember, you are the modern learner. Keep bringing back this content to the way you are working and the way you are learning in today's virtual, mobile, and global work environment.
Leveraging available resources from trusted sources, turning to our Personal Learning Networks (PLNs) with questions and suggestions, and drawing on available research can help guide our growth as both practitioners and learners.