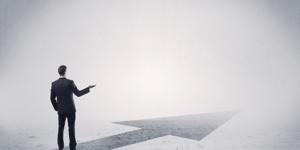 This month brings a new course catalog, new titles, digital badging, and a refreshed website
As learning technologies and learner expectations continue to evolve, training will continue to present new challenges and we at InSync Training will continue to be at the forefront of finding solutions to those challenges in the modern virtual classroom. It's been quite a ride going from an idea 15 years ago to the 20th fastest growing education company in the U.S. in 2014 and we're eager to see what the next 15 years have in store for virtual training AND InSync Training.
Thanks for a great 15 years!
Jennifer
The Modern Virtual Classroom
In 2000, InSync Training began a tradition of leadership in the training field by researching, vetting, and promoting best practices in the virtual classroom while that technology was still emerging. We coined the term "Producer," and have continued to focus on real learning outcomes and meaningful practices. We now extend that paradigm to the blended learning environment – one that contemplates a variety of instructional delivery methods, learner needs, and cognitive theories to optimize learner outcome and facilitate modern workplace learning for the sponsor.
Implementing blended learning is complex and becoming mission-critical. We are continuing to focus on delivering quality instructional programs that are focused on learning outcomes (as opposed to the most easily available technology).
Once again, InSync Training is setting the standard for the modern classroom, taking the virtual classroom well beyond the "webinar" and extending the learner experience to one in a seamless blended learning environment. We continue to establish best practices for virtual facilitation and design, including the incorporation of mobile and social technologies for an increasingly global workforce.
Modern Language
The old training language doesn't work anymore. Terms like "e-learning" and "webinar" don't represent what the modern instructional designer is trying to accomplish. The goal in a "blend" is to integrate content, exercises, and assessment, into a seamless curriculum regardless of what delivery technologies are utilized.
The time has finally come to take the 'e' out of e-learning. Delivery technology will start to become part of the background; learners will remember the content and the facilitation of that content, instead of a series of points and clicks.
In our new updated Course and Services Catalog you'll notice a subtle shift in language to accommodate this evolution. First, whenever appropriate, we've replaced the word synchronous with the word virtual and the word asynchronous with the word self-directed. We have also begun to migrate towards the word lesson instead of session (which usually means 'live') or module (which usually means 'e-learning'). We believe that using the word lesson makes all content in a blend equal.
Modern Recognition
In a mobile global workplace, paper certificates of completion as a form of recognition have become less desirable. Learners want the ability to digitally present their credentials and skills. Potential employers also want digital credentialing, allowing them to understand a candidate's skill set quickly.
Every time a certificate, workshop, or Team Byte is successfully completed, learners will be issued a digital badge that links to information bout the course program and the CEUs earned (when applicable). Learners will also be able to access a transcript, and print certificates if needed.
To see all of the new and updated certificates, workshops, and services we offer, just click on the icon below.