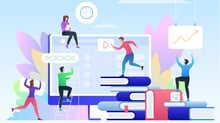 This November I am exploring Digital Writing Month, a "30 Day Adventure to the World of Digital Narrative and Art."
The November 4 2015 post by Rusul AlRubail concludes with:
Digital writing merges traditional forms of writing with the digital world. "Digital" does not refer to the tool. "Digital" refers to our presence on these tools and platforms, how we exist, behave and interact with others using the same space we are.
If digital writing merges traditional forms of writing with the digital world (read the post!), then digital conversation merges traditional ways of "talking" with digital expression. This concept of how we incorporate personal digital expression will influence the evolution and future of #edtech. This is a future where '"e-learning" becomes "learning." Where "virtual classrooms" become "real" classrooms. Where the way one chooses to communicate doesn't matter because all forms of communication are equivalent.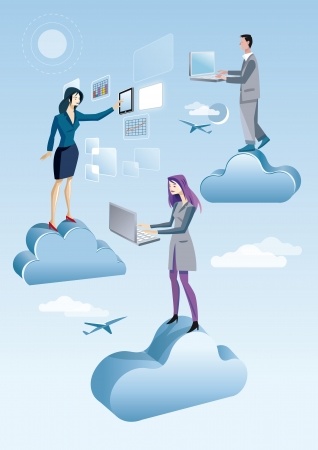 Think about it: our collective vocabulary has become infused with the language of technology. Conversations occur via chat or text or cell or email or video or all at once. Emoticons, emojis, and abbreviations (LOL and BRB) have become part of the written word. They are representations of a language almost universally understood.
But because these technologies represent relatively new forms of communication, we've continued to give them labels and to assign relative value to each communication type.
Which seems crazy – technology has provided a Rosetta Stone to allow us to create a modern Tower Of Babel. The potential for creating supportive learning environments is enormous. But instead of embracing this common language and encouraging individual digital presence, we resist it.
Let's consider the virtual classroom. In general we are frustrated when learners don't speak up during a live session. The old paradigm of learning insists that using one's voice is the best way to communicate in real time. Any other choice has less value. That's so limiting. The digital presence of the learner in the virtual classroom can be expressed with white boards, and chat rooms, and emoticons. Why should one expression of an idea be more valuable than any other? If my preference is to express myself digitally via a specific tool, being allowed and encouraged to do so may increase my engagement in the conversation. And not just my engagement, but potentially could result in higher engagement for the group as a whole.
It's like speaking the same language using different dialects – individual ideas expressed in one's own 'voice' with a comfortable personal nuance. And it can truly be a cacophony of voices – text chat, drawings, and speech seemingly competing for attention. But as we develop our personal digital presence, we'll also learn to interpret and embrace the behaviors others adopt in the learning environment, and we'll learn to synthesize these communication channels into a coherent conversation that is diverse and inclusive.