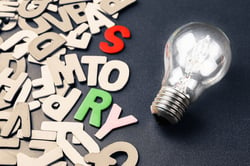 Virtually There Session Recap
As trainers, we often have to design and deliver technical or hard-to-understand content to our learners. Oftentimes, the content itself doesn't naturally draw people in or lend itself to being easily remembered. By leveraging new edtech, innovative instructional design techniques, and engaging facilitation, we make an honest effort to engage learners and improve organizational performance.
But what if bells and whistles don't hold the key to one of our biggest modern learning challenges? Karin Rex, instructional design expert, believes an easier path can get us to our goal of creating last learning experiences: story.
Watch the webcast of Karin's fantastic Virtually There session Storytelling on Steroids with VideoScribe, for the full story.
Some Backstory on Storytelling
Before you begin weaving complex narrative into every training module, take a step back and consider some story basics. Karin believes the best definition of a story is experience reconstituted, because:
"Adults learn from experience. If story is experience reconstituted, then it follows that adults learn best through story."
Stories provide context to content using the most valuable of all teachers: experience. For example, when Karin describes her business GeekyGirl, she says,
"I established my company GeekyGirl in 1989…postage stamps were under 25 cents, gas was under a buck, and it was the year Bart Simpson's family was born."
Not only does her story add color to her introduction, it also provides context her audience understands. Many of us would forget that tidbit, had she not provided memorable detail to support it. This small example gives hope to those of us struggling to get learners to remember data.
So when you believe a piece of content may work well as part of a larger narrative, ask yourself, "What social, professional, or pop culture happenings might my learners relate to when they hear this content?" Weaving in existing reference points to your stories, Karin argues, makes them that much more memorable.
Science Makes the Case for Story
Think about the last data-heavy presentation you went to. Sales meetings, operations planning, a new training rollout debrief – how many of you can recall the data or statistics in that presentation easily? Probably not. Karin shared why this happens:
"Stats are forgettable, and the reason you don't remember that information is because the data was geared to the logical left side of your brain."
Unfortunately, research shows that numbers don't have long shelf-lives in our left-brains. When numbers, data, or technical material that naturally lives in the left side of our brains matter to job performance and skill building, what do we do? Go back to context and use it to bridge the information over to long-term memory.
Karin urges you to use stories to present data as a way to paint a memorable picture, sharing,
"Research from the London School of Business found that people have different levels of information retention based on how information is delivered. When we hear stats alone, we remember 5-10%. When coupled with a picture, retention drives to 25%. That's a good increase! And when stories are used to convey the same info, retention jumps to a remarkable 65-70%."
Science provides the secret to training that sticks. Stories appeal to both sides of learners' brains, engage emotions, and create connections to information that learners use to anchor the technical content we need them to understand for improved job performance.
To view Karin's Virtually There Session, Storytelling on Steroids With Videoscribe, click here.