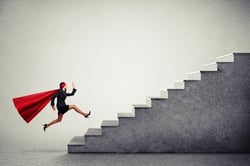 Picture it: You're a veteran virtual learning producer. You've arrived forty-five minutes ahead of a session, you're well prepared…and everything goes wrong. Do you panic? Or do you put all your skills to good use?
InSync Training's veteran producer Kathy Piazza managed to keep her cool in a high-pressure producing situation, and managed to keep the session moving and the learners on track.
In this blog post, she shares her step-by-step, moment-by-moment, rollercoaster ride of a session.
9:00 AM (45 minutes before the start)
I log into Webex to start setting up for the session. Per the client's instructions, I log in 45 minutes before the start to triple check that everything is set up correctly. Facilitator #1 logs in from his Manhattan apartment and is making sure that his audio and video are set up correctly. He tells me that he has found the optimal spot in his apartment for sound and lighting. Sounds like the start of a trouble-free session!
9:10 AM (35 minutes before the start)
Facilitator #2 logs in to Webex, and the three of us chat for a minute while waiting for facilitators #3 and #4. Facilitator #2 reaches down to adjust his headset and crashes his entire laptop setup to the floor, "My Big Fat Greek Wedding" plate-breaking-style, and is gone from the screen and from our audio. Facilitator #3 logs in shortly after facilitator #2 disappears. We're growing aware that learners will begin to join in five minutes and we're short two facilitators.
9:15 (30 minutes before the start)
I place a call to facilitator #4 that goes straight to voicemail. I begin to worry about having enough coverage for the session. Facilitator #2 logs back in but is unaware that we can hear him swearing at his computer. I place a second call to a standby facilitator in case facilitator #4 doesn't make it. Thankfully no participants yet.
9:20 (25 minutes before the start)
All of a sudden all we can hear are jackhammers. Facilitator #1 goes beet red and says they started street construction outside his apartment. We see him pick up his laptop and notes and run from corner to corner of his apartment looking for a quiet place to work. I place myself on mute and call facilitator #4 again. Facilitator #4 is stuck in airport security and is freaking out over being late. I reassure her that it's okay and that she should join ASAP. I place a call to the backup (facilitator #5) and have her join the session.
9:35 (15 minutes before the start)
Learners begin logging in. We have one facilitator working from his shower, one without audio, and one missing. Luckily facilitator #3 and facilitator #5 are present and accounted for. Learners are unaware that we are facing these challenges. Ironically, the session is on digital professionalism. I chalk it up to a learning opportunity should the need present itself to inform them of what's happening.
9:55 (start time)
Facilitators #1, #2, #3, and #5 are all functioning as they should be. We're all on edge waiting for the next thing to happen, but so far it's smooth and the learners are unaware of the chaotic events leading up to the session.
10:05 (10 minutes past start time)
Facilitator #4 logs in to the session looking perfectly put together, you would never know she had just run through the airport to find a place to work. All facilitators are happy to see her back, this is the second session for the course, and the learners know and love her, and are used to her teaching style. Facilitator #5 gets a big thank you from us all and logs out during the break.
12:00 (5 minutes after the session ended)
I can't help but be relieved that this is over. I have never had a session where everything went wrong like that, but I'm incredibly proud of the professionalism of our facilitators. Each and every one of them managed to keep their cool under pressure, and was able to focus on the participants and their needs, even when working from the shower.