Today's workforce is more global, virtual, and mobile than ever before. Learning professionals must adapt to this new culture in order to best support modern learners. Based on Jennifer Hofmann's recent BYTE presentation, The Modern Learning Culture - What Makes it Tick?, this microblog series will present ten ways that learning professionals can evolve in order to successfully navigate emerging learning culture.
This is the third post in the series. Click here to start with the first post.
For additional information and support, download the InSync Training infographic, What is Driving the Modern Learning Culture, and watch the recording of the BYTE presentation, The Modern Learning Culture - What Makes it Tick?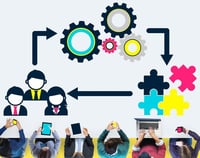 Third Way to Evolve with the Modern Learning Culture: Foster Independence and Interdependence
The dynamics at play in the modern learning culture require that today's employees be both independent and interdependent. As learning ambassadors, we must foster these characteristics within our organizations in order to evolve with the existing culture.
Why is this important?
InSync Training has identified four drivers behind the modern learning culture. One of them reads, "For the first time in history, four generations are working together."
In general, these generations have unique professional approaches. For example, Gen X workers are known to value their self-sufficiency. Conversely, Millennials tend to appreciate collaborative problem solving.
Different generations have different desires, and we need to facilitate meaningful interaction between them during training in order to prepare them for success on the job. These variations in generational approach will not go away so it's necessary to acknowledge and leverage them. You can do this by promoting the dual idea of being simultaneously an independent person and an interdependent team player.
The Challenge
Unfortunately promoting both independence and interdependence within a team is harder than it sounds.
Because the current workforce is both global and virtual, employees need to be independent workers who get things done on their own and who are capable of setting their own deadlines. Paradoxically, they must also embrace and participate in team collaboration to meet defined business goals.
The challenge arises when we consider this:
Independent workers tend to be self-reliant – so much so that they might actually resent having to work on a team to solve a problem or complete a project.
Interdependent individuals understand the inherent value of collaboration, but may lack the skills to complete necessary tasks on their own.
See the difficulty here?
Solution
The first step to accomplishing this evolutionary goal: hire the right people. Get self-motivated and self-managing people on your team. You can identify these individuals when you're teaching classes. Why? Because learning and working are closely related. A self-starter in the classroom will likely be the same way at work.
Once you have the right team, encourage them to teach each other about independence and interdependence. Create a learning culture in your organization that supports the workforce at large. In the right learning environment, Gen Xers can demonstrate an independent approach to their younger peers, while Millennials will have the opportunity to include everyone in meaningful collaborative exercises.
With the right people on the team, and a secure learning environment promoting the value and practice of being independent and interdependent, these traits can then be transplanted from training to working.
Final Thought
While fostering independence and interdependence is just one way to evolve with the modern learning culture, I believe it's hugely important. As learning professionals, we need to applaud their autonomy, but also help them feel confident that they can learn from one another and ask for help when they need it. Ultimately, for workplace learning to translate into success at the organizational level, we need to balance self-reliance and trust.
To read the next post in this series, click here.
To learn more about creating and managing successful virtual teams, check out our Highly Effective Virtual Teams Workshop by clicking on the graphic below.