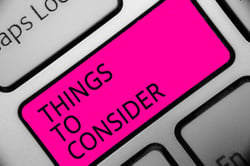 ATD Webcast Recap
With all of the options available to accommodate individual learning objectives, many practitioners assume, "Oh! I'm only creating microlearning. I don't need ADDIE or SAM or any complicated framework."
However, when thinking about flipping your classroom to a more modern program, our team offers one critical reminder: instructional design becomes more important than ever. Standalone courses do not exist anymore, and neither do standalone training resources. Everything connects to everything else, making thoughtful design a critical piece of your blended learning puzzle.
During her recent ATD Webcast Blended Learning: A Five-Dimensional Puzzle, Jennifer Hofmann shared the factors she considers when embarking on a new design project. Whether you design, facilitate, or manage training programs, these three elements provide a foundation for understanding modern blended learning.
Consideration 1: Inquiry-Based Learning
What's the first thing you do in your daily life when a question pops into your head or you want to learn more about a topic? You Google it! Experts refer to that as "inquiry-based learning," or the process of posing and answering questions to gain new knowledge.
Inquiry-based learning allows learners to drill down into the information as deeply as they require for their purposes simply through the process of asking more questions. When learners get what they need, they move on. This process works exceptionally well in blended learning, since we strive to provide the information learners seek when and where they have a moment of need. If you can come up with the right questions and learners recognize it as something they might ask, then they more quickly recognize the relevance of training content to their professional development goals.
One easy way to get started with inquiry-based learning is to transform your learning objectives into guiding questions. This approach allows learners to know what questions the blend will answer, and without all the training jargon, they'll know right away if it's the right material for them.
Consideration 2: Get Real-Work Oriented
The shift towards modern blended learning takes us away from two-day long in-classroom training programs of the past. Instead, we now leverage eLearning modules, virtual classroom sessions, and brief high-impact face-to-face events for formal learning and integrate resources and self-paced activities for informal skill building.
Because we don't corral learners into a room for days at a time, they have the opportunity to go back to their workplaces, apply what they've learned to real work, and then come back for more training at the next point in their development. This process makes the learning more relevant and meaningful for adult learners.
Review your material and identify where learners can practice what they need to do on the job. Plan for those activities and communicate very clearly the value and purpose of these exercises.
Consideration 3: Show Your Work
Blended learning seeks to minimize lecture and instead focuses on application. Asking learners to literally show their work has immense power in generating true performance improvement. How can you encourage demonstrative skill application in your formal learning sessions?
One of our favorite recommendations is to direct learners, either solo or in small group activities, to create a final product like a checklist or process flow and share it with the rest of the group. We bring learners together to collaborate. Double down on the value by having them create a tool or job aid during interactive activities so they can not only explain it to the group, but also take it back for just-in-time performance support.
When learners invest in the process by creating tools, asking questions, and understanding how learning content applies to their jobs, they will achieve greater success.
Learn about the other four factors Jennifer considers when working on a blended design (and more) by watching her entire ATD Webcast replay here.