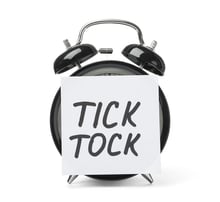 The design and implementation of blended learning includes many moving parts. We consider the LMS that will host all the content, and the virtual classroom platform on which we will deliver live online components. We consider our learners, and the skills they need to build, and the wisdom they already possess. We also consider where learning will happen – whether in a classroom, on a mobile device, at a learner's desk, or on-the-job.
One element we often overlook, though? Time. By not thinking through how learning takes place, we limit the potential of our programs.
Step 1: Change Your Concept of Time
Traditionally, we break training down into specific chunks of time, like:
A three-day on-site face-to-face classroom training event
A 90-minute informational webinar
A 30-minute podcast with a SME
An eLearning quiz that takes approximately five minutes to complete
Training completion times absolutely matter when planning blended learning campaigns.
But, we also need to shift our perspective a bit. Try to view learning as perpetual. Our learners are learning all the time. When you sit down with your early morning coffee or late-night bowl of popcorn, you probably scroll through the news. Many of us listen to podcasts or audio books while we commute or run errands. When faced with a problem at work or at home, we may Google the solution or watch a video on YouTube to walk us through a quick fix.
Our day-to-day lives can serve as an example of the truly ongoing nature of learning. Let's carry it over into our blends.
Step 2: Focus on 5 Moments
The InSync team works to learn every day to improve our best practices. Jennifer Hofmann often cites Bob Mosher and Conrad Gottfredson's 5 Moments of Learning Need as a model that deeply changes her perspective of blended learning design and delivery.
And for good reason! The 5 Moments:
Learning for the first time
Learning more
Applying what was learned
When things go wrong
When things change
Make the concept of perpetual learning more manageable.
By thinking of training components as addressing a specific moment of learner need, we can more easily identify the applicability of training and the gaps that exist in our initial design. For example, instead of tacking on a flashy infographic to add to the pile of stuff learners have access to, we can define the usage as, "a helpful tool that outlines the six steps to submitting their quarterly reports." Now not only do we know where it fits in the blend, but why and when our audience may access it.
As an added bonus, we also have the ability to more clearly communicate the usefulness of each resource and event to learners. It improves the likelihood of learners engaging in our content because they understand the why behind all of the content as it relates to their jobs.
Remember: learning & development practitioners don't just need to design the right content, deliver it through the right technology, and facilitate it in a way that engages the right people. We also need to create an exceptional skill building experience. By delivering content at the right time, we move one step closer to more successful blended learning.