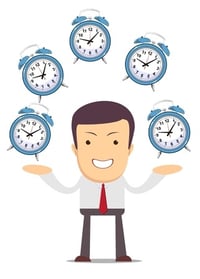 Each learning environment requires facilitators to develop certain skills to promote learner success. Classroom facilitators benefit from participant body language. They know, based on the energy in the room, whether content resonates with learners, or if it doesn't. Adapting the presentation based on learner needs has become second nature in the classroom, and with depth of experiences comes comfort – classroom facilitators know how to stay on track and on schedule.
In the virtual classroom, though, many facilitators, even seasoned veterans, struggle to manage their time. In fact, I believe time management is one of the key competencies facilitators must develop for this learning environment.
When used as a competency, I define time management as, "the ability to manage a session so that you know learners are engaged, while also ensuring that learning takes place and the session finishes on time."
My Time Management Technique
Unsurprisingly, I don't recommend talking faster as a virtual classroom time management approach. You may get through the content, but participants won't learn more.
At InSync Training, we use a facilitator guide for every virtual program, whether it's a standalone session or part of a complex blended learning design. Our template plans the scope and detail of each session. Each member of the instructional team, including the facilitator, knows their roles and responsibilities. The guide frames out timing for content and activities, too.
This guide keeps sessions on track, while also providing facilitators with flexibility. If you need to review content that has been confusing to learners, rather than complete a planned whiteboard activity, you know how much time you can use without completely disrupting the session.
Using tools in the live session help bolster the plan laid out by the facilitator guide, and further supports time management. Set timers for breakout room activities, and request producers complete clock checks. Simple actions like this can encourage virtual classroom sessions that stay on schedule.
Do you have a time management technique you've used successfully? Share it in the comments below!