Select

Intentionally,

Make

A Plan,

Actively

Participate,

Revitalize

Your Network, and Tell

Y

our Stories

According to Merriam-Webster, a conference is "a meeting of two or more persons for discussing matters of common concern." In everyday experience, a conference is a gathering of professionals to attend a series of presentations and keynotes about the current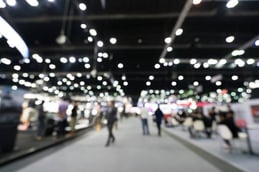 and future state of the industry, and is indeed a terrific opportunity to learn new insights and resolve those common concerns.
The cynical see conferences as excuses to travel and play in appealing cities. Some see hype with little return on the investment in time and costs. But conferences can be a valuable professional development activity if you are smart about how you engage. Here's how to get started.
1. Select your investment intentionally.
The list of conferences in our field is quite extensive, and each has its own focus and vibe. To decide which one is best for you, first consider your professional development goals. Do you have a particular topic or skill on your to-learn list? Are you hoping to dig into core topics or learn more about tools and practices on the leading edge? Are you looking for new frameworks and recommendations, or skill-building and exemplar cases? Do you need to hear from folks who deeply understand your specialty or industry, or are you looking to scan the lay of the land a bit further afield?
Popularity and size may not be the best selection criteria for you. You might look for a specialty conference that has more of what you need (e.g. customer service training, virtual training, leadership, a software company user gathering). Location is also a consideration when you have to account for travel costs. At the same time, take into account that attending an international conference (live or via the web) will expose you to different viewpoints on some of our common concerns. While it might be rewarding to return to in-person conferences, notice that conference organizers have continued to offer solid online options, and they've gotten better at making that a rich experience, albeit sometimes lacking in the peer-to-peer experience a good face-to-face conference can offer.
Do a little research on your options – explore past agendas, blog posts or reviews from previous attendees, the thought leaders that seem to attend year-over-year, and overall reputation. Ask colleagues about their recommendations and review conference programs to see what best suits your needs.
2. Make a detailed – but flexible – plan.
An exciting characteristic of many conferences is just how many sessions are on offer. You'd think with so many choices per time slot, it might be easy to just see what strikes you in the moment. But if you really want to take away actionable ideas, pre-planning is the better approach.
Take time before the conference to study the agenda and make your session selections. Dig into descriptions and the background of presenters in making your decisions; session titles can be misleading. Some conferences post handouts and slide decks in the conference app or online so you can preview sessions before committing. It's a good idea to identify a contingency session for each time slot so you can quickly switch sessions if your first choice turns out to be not what you had in mind.
The expo part of the conference can be equally daunting – aisles of vendor displays, all designed to attract attention. Research the vendors whose products and pitches you really want to see and go into the expo with a map of the booths you want to check out. Leave room for wandering, though, as you can gain interesting insights from vendor conversations even if you are not in a position to buy anything.
Plan a bit of down time as well so you can get fresh air and think about what you're learning. Also plan social time, whether formal conference socials or informal chats poolside or in bars and restaurants. Consider reaching out to your social media connections to find out who might be available to meet up face-to-face.
Most importantly, plan to disconnect from your office as much as possible. Reserve specific times for checking in on email, and don't schedule conference calls if it can be avoided. This kind of separation from the day-to-day gives space for interesting solutions to become apparent and new ideas to take root.
3. Actively participate.
It may go without saying that you're there to learn, but distractions abound in this context as much as they do elsewhere. Because face-to-face conferences are so large, and online conferences are sometimes impersonal, it's easy to give the sessions partial attention. Practice being in the moment.
People who are attending the sessions you chose likely have some of the same concerns and challenges you do. Strike up conversations to learn from them as well as from the speaker. Many presenters will give you opportunities to engage in exercises or have quick discussions during the session, and that, too, may be a good time to share your experiences and concerns and get input from others.
To keep yourself focused, plan to take notes (I suggest carrying a notebook or using a writing app on your tablet). In addition to session notes, keep a running list of to-dos and potential actions so they don't get lost in the shuffle. Reserve time to review that to-do list after you return.
4. Revitalize your network.
Take advantage of the opportunity to chat with fellow attendees and expand your network. Instead of scrolling on your phone between sessions, start conversations with those around you. Conference socials, lunch breaks, and extended between-session breathers can also be good times to meet people. Be prepared to quickly exchange contact info so you can pick up the conversation later. (Business cards are great for this purpose, but less prevalent these days.)
Make it a point to make new connections. Before the conference, update your LinkedIn profile and other social media feeds so that they provide a true picture of your current status and interests. Then be sure to request connections and find ways to start after-conference conversations with people so that those relationships can solidify.
5. Tell Your Stories
Presenting a session at a conference is a valuable developmental opportunity for you, as well as for the attendees who might benefit from what you would share. The act of putting your thoughts together solidifies your learning from your projects and clarifies your conceptualization of your practices and skills. You can craft presentations so that you learn from your audience as well, and after-session chats often give you more to consider and help you to further your ideas.
Be aware that calls for conference proposals are often six to eight months in advance of the conference. If you'd like to propose a session, select the conference that would be the most appropriate venue and explore how their conference agendas are built so you can get those deadlines on your radar. In addition to the benefits and professional visibility it offers you, many conferences give presenters a complimentary pass to the entire conference, which can make the whole enterprise far more affordable.
Smart conference attendance benefits
If you've not attended an industry conference before, they can be incredibly intimidating – lots of people, lots of choices, lots of new ideas. But the right conference can be a valuable avenue for keeping your finger on the pulse of emerging practices, deep diving into hot topics, learning about other organizations' approaches to issues similar to your own, and developing a support network of fellow professionals.
Taking the time to carefully choose a relevant conference and thoughtfully plan out details for getting the most out of your attendance makes a tremendous difference. And offering to share some of your own work takes your development to another level. Once there, staying present, interacting with others, and building your professional contacts can make the experience more productive, more enjoyable, and more valuable in the long run. I hope to see you at a conference in the future – look me up!
More opportunities for professional development
If you're looking to network and bring in business this conference season, chances are that you'll be following up with your connections virtually. Check out our new Trends in Virtual Training - Expert Series 2-hour The Winning Virtual Sales Call workshop that's designed to help you make the most out of virtual sales calls. The workshop includes a breakout session where your team redesigns an existing sales conversation in a way that applies emotional intelligence and relationship skills to win the sale. You'll leave with an action plan to help your sales team create virtual presence and skills to win clients in any platform. Everyone will also receive a virtual sales toolkit to aid in virtual sales calls.
Click on the image below for a glimpse at all 12 trending topics available in our Expert Series.