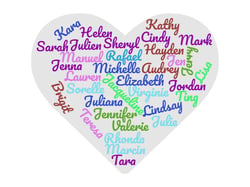 Happy Virtual Classroom Producer Day!
To celebrate the occasion, we're honoring our own producers - the members of our instructional team who ensure our live online learning events go off without a hitch.
We asked our facilitators, project managers, and operations team what sets our producers apart, and these are just a few of their favorite things.
They look out for each other. Our producers connect and collaborate everyday (the Skype chat is always active!). They know when someone has too much on their plate, and are able to lend a hand when someone needs help. They work around illnesses, family vacations, and other important events. Our team genuinely likes each other and wants everyone to succeed.


They're funny. Seriously, our producers make us laugh. The producers and facilitators crack jokes, share stories, and generally have fun together. For a team that works remotely, they somehow have a shared sense of humor about tech troubles, remote work shenanigans, and everything in between.


They solve our tech problems. Got a question about Adobe Connect or WebEx? The production team always has the answer, no matter the time of day. Can't figure out why your email won't sync to your iPhone? The producers probably know a solution. They're the backbone of our SOS Skype chat, always stepping in with tips, tricks, and workarounds. I'm sure they occasionally get sick of our questions, but they never, ever show it.


They work hard. Our producers are a major part of what makes InSync great. Their hard work guarantees our sessions go smoothly. It's a hard job to troubleshoot someone's audio from 5,000 miles away, and still have the wherewithal to set up breakout rooms and polls simultaneously. Factoring in late night and early morning sessions, and we're tired just thinking about their job.


They give each other shout outs. Solved a particularly tricky problem? Had a lot of challenges in a session? Generally having a rough day? The production team is famous for their Skype and Facebook shout outs praising their peers!


They share adorable pet photos. We love our pets here at InSync, and we love to share their adorable antics. Nothing's better than logging into work and seeing a new puppy on your screen. We have it on good authority that they're all good boys and girls who don't bark during sessions.


They celebrate the little things. The production team is always celebrating both InSync's success and personal milestones. Running a 5k for the first time? Accepted an award for production? Both are big-deal accomplishments and the production team cheerleads with much-appreciated words of encouragement.


They don't take themselves too seriously. Even though they're all experts, they can admit that not everything goes perfectly every session, even with focused preparation. The production team knows that laughter is the best medicine for a stressful day. We appreciate that they can be lighthearted about stressful situations.


They give the best advice. Worried about a session? Unsure about how to incorporate a new virtual classroom tool into a program? The production team has a lot of wisdom between them and they gladly share the wealth.


They're the best in the business. Our producers' expertise endears them to us all. They're truly the best of the best, the proverbial cream of the crop. They have years of experience, and keep their cool when things get complicated. They've seen it all in the virtual classroom and have the answers for any modern learning challenge they may face. We're so lucky to have such a great team providing support to our learners, our facilitators, and our programs.
Looking for ways to celebrate Virtual Classroom Producer Day?
We recommend:
Share your appreciation for your favorite virtual classroom producer on Twitter with #VirtualClassroomProducerDay.
Give a shoutout to the producer in the next webinar you attend, like in our complimentary Virtually There series.
Learn our team's secret to success in an upcoming Master Virtual Producer (MVP) certificate program.
Hire our experts to support your modern learning initiatives.