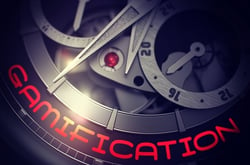 September's Blended Learning Hub learning campaign focuses on gamification and game-based learning, both popular modern learning models.
I am smiling as I write this; the word 'gamification' immediately makes me think, "This is going to be fun!"
One example of gamification that I use every day is my FitBit. It gives me positive feedback when I reach certain levels. It physically celebrates when I meet my step goal! It vibrates and flashes and has a party right there on my wrist. When that happens I join the party! Whoop! Whoop! I did it! Hooray!