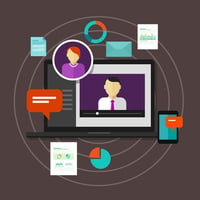 Attending a conference in-person is not always an option. Budget constraints, scheduling, and getting approvals can often prevent you and your staff from participating as attendees, or even presenters.
More and more, we see virtual conference options being offered – either an entire virtual conference, or the virtual attendance option for an on-site conference. These live virtual learning experiences have extensive benefits (and limited drawbacks) if they're well produced and facilitated.
The Producer Perspective
I have been producing and facilitating virtual conferences for several organizations for the past five years. These are virtual tracks at the conferences, meaning that we broadcast only specific sessions that are taking place on-site. This gives attendees a multi-day experience with sessions chosen from the overall schedule to be streamed live.