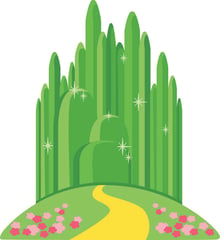 If you were unfamiliar with L. Frank Baum's Wizard of Oz and read a description of the elements of the story, you'd likely see a list something like the following:
a haunted castle with flying monkeys, a poppy field
a tornado in Kansas, a village populated by wee folk
a forest of talking foul-tempered trees
a cornfield with a sentient scarecrow
and a yellow brick road (YBR for short).
What's so important about these elements is that while each one contributes to the story, it is the YBR that connects them all. Indeed, it is the experiences of the characters as they travel along the YBR that
is the story
.