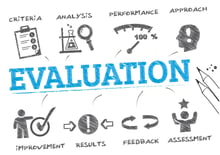 Evaluation of digital learning programs, (when it happens!), often focuses on the technology or the process. Was the virtual classroom technology appropriate? Did you complete the eLearning? Did you download the infographic?
These types of questions don't often provide satisfying results!
Instead of looking at technology and process, we should be evaluating results. Who cares if content is delivered in a traditional classroom or a virtual classroom, as long as the results align with the business need?