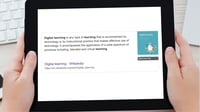 Would it surprise you to learn that, on Wikipedia, the following three phrases are equivalent?
Online Learning --------------> eLearning ------------------> Educational Technology
I agree that these three terms are often used interchangeably — but not always consistently.
Having so many ways of saying the same thing is understandably confusing the people not in the learning and development community. I think it's also confusing to those of us designing, developing, and delivering content every day.