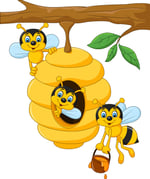 Have you ever watched The Magic School Bus? What about Bill Nye the Science Guy or Schoolhouse Rock?
These entertaining children's television programs have an important common approach to education: they explain complex subject matter in easy-to-understand ways by using likeable characters in fun narratives.
The childlike wonder you experienced when learning chemistry from Bill Nye can happen in the modern classroom. Regardless of whether your content focuses on technical training or soft skills, incorporating characters into appropriate learning modules can positively impact both learner engagement and retention.