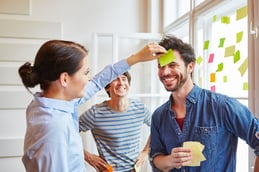 When was the last time you had fun during a mandated training event?
This loaded question plagues instructional designers and facilitators alike. Stakeholders know that training impacts overall organizational performance, making upskilling employees a high-stakes game. Without the proper instruction, teams may not achieve business-critical goals and, perhaps more detrimentally, become frustrated when they feel unprepared to handle the responsibilities of their roles.
As training professionals, we understand the risk of poorly designed or delivered learning events. But taking learning seriously doesn't necessarily mean all training elements must feel serious. In fact, fun and games present a unique option to boost learner engagement and retention.