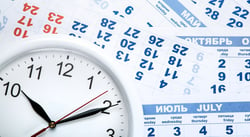 Recently, the InSync Team worked with a large corporate client on an extensive blended virtual program roll out.
With multiple two-hour live, online sessions and self-directed activities supporting thousands of learners in Company X's offices across the global training program, logistics proved to be a veritable logic puzzle. Not only did content need contextualization (and regionalization in some cases), but each live session needed a supportive and talented instructional team.
Success depended upon the correct placement of all the puzzle pieces. And while our team has a long history of designing, staffing, and managing large virtual initiatives, this process provided a helpful reminder about the truth of planning global programs: we need to keep calendars and clocks top of mind.