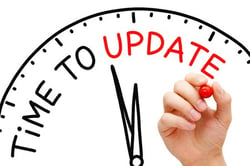 It's very exciting to learn about and invest in the latest trends in educational technology. Who among us hasn't been swept up by the allure of gamification, the promise of curation, and a desire to embed microlearning at every conceivable moment of learning need?
No matter how enticing these new ideas might be, we are always (rightly) concerned about adoption. If we don't implement well, these new technologies and instructional strategies will seem like just the latest trend, easily ignored while we all default to our normal, familiar learning mode: instructor-led.
And, people are generally happy with that. We know how to learn in a classroom. We know how to teach in a classroom.
It takes a modern learning culture to support modern educational technologies and instructional techniques. Unfortunately, many organizations are living in the past. While training success doesn't depend on deploying the latest trends, and outdated learning culture can hinder employee, program, and organizational success.