We're excited to have Carla Torgerson join the InSync BYTE series ranks as a guest presenter. As a preface to her upcoming April 4, 2017, Carla provides insight into microlearning's role in larger blended learning ecosystems. Attend her BYTE "Embracing Microlearning in Your Learning Ecosystem" to learn more.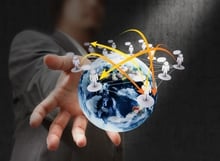 Microlearning is the use of short pieces of learning content, generally no more than five minutes long. We all have experiences in our personal lives of learning with micro-content. It usually happens in one of two ways.
The first is all those times you look up something on your computer or phone to learn a little bit about something you're interested in -- for example, maybe I want to know a little more about Donald Trump's nominee for the Supreme Court, or what really happened to Mariah Carey's New Year's Eve performance.
The second is all those times you use your phone to help with something in the moment – like when you get lost and pull out your Google map, or you're on vacation and use Yelp to help you find a nearby restaurant that meets your requirements for price and user reviews. To us learning designers, we'd call that first example training and the second one performance support.
When we design microlearning for the workplace, I believe we need to focus on three key moments. The first is the learner's moment of need (which is explained in depth by Dr. Conrad Gottfredson and Bob Mosher's work on the Five Moments of Need. The second is the learner's moment of curiosity, and finally the third is the organization's moment of need.
Let's take a look at an example… Let's say I am your financial planner. It's my job to help you plan for your retirement, and as a part of that process I will buy and sell mutual funds, stocks, bonds, and other financial instruments for you. I will also develop a plan for how aggressive to be with those investments and keep you apprised of how your portfolio is doing and if you're on track to meet your goals.*