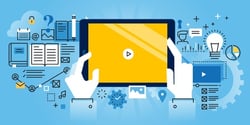 We know our modern learners use mobile devices daily. As learning practitioners, there's an expectation that we will adapt to and support this new way of life through our training programs. Thanks to blended learning, we can support this new vision for the digital age. Rather than transitioning traditional learning events to exclusively mobile delivery, we have the ability to transition portions of our content to an on-the-go treatment when appropriate.
Our approach to the mobile learning (mLearning) evolution matters. If we have unrealistic expectations about mobile technology, abandon thoughtful instructional design methods, or forget to gain stakeholder and learner buy-in, our mobile learning can't and won't prove successful.
Get started with mLearning by building on a fundamental knowledge of this approach.