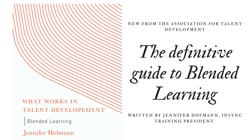 The term blended learning has come in and out of vogue in corporate training for the last several decades. For so long, in fact, it feels like an old-fashioned term. A term that is not modern enough for the current learning landscape.
The reality is, modern learning strategies, techniques, and technologies seem to be custom designed for blended learning approach. But we need to stop thinking about designing a blend only after the so-called "important" content is developed. As I state in my new book, Blended Learning: What Works in Talent Development (ATD, 2018):
"…modern blended learning is more than sequencing different media and activities that happen to be related by topic. It is about aligning learning objects with the most appropriate instructional strategies, techniques, and technologies, while meeting the needs of the organization and modern learners."